BDS Loses To StormDogs
Details

Published on Tuesday, 30 October 2018 19:24
Written by thenebraskasigna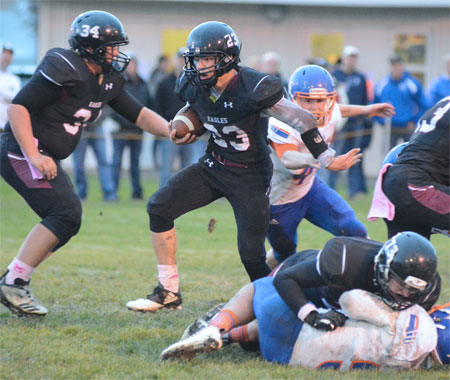 Bruning-Davenport/Shickley lost a football game. Something that happens just about as much as snow falling around here in mid-October. Hmm...
A suddenly healthy Osceola/High Plains squad downed BDS 34-22 in the first round of the Class D-1 NSAA State Football Play-offs Thursday in Bruning. Despite out-total-yarding their visitors, 357-236, the Eagles gave up some uncharacteristic long plays, had three turnovers and missed two time All-State quarterback John Christensen not being in their starting line-up.
"The kids gave us everything they had," Eagle co-head coach Mark Rotter said. "We have nothing to hang our heads about."
BDS ended its season at 8-1 and lost its first game in 22 starts. The Eagles won the Class D-2 State title a season ago.
Pressed into service a season early, Eagle Dylan Domeier rushed for 171 yards and a score in the contest. The junior BDS quarterback also threw for 93 yards and two scores. Logan Schroeder snagged a touchdown pass and had 45 receiving yards. Kameron Dickson also caught a TD pass and 25 yards receiving. Aaron Mick rushed for 34 yards and Dalton Kleinschmidt added 33 yards on the ground.
O/HP led the contest 18-14 at intermission and added a fourth-quarter score to seal the upset. The Eagles had 357 total yards and 16 first downs. The StormDogs had 236 total yards and 12 first downs. Both teams had five penalties—BDS for 50 yards; O/HP for 60 yards.
Isaac Kamler paced the Eagle defense with 21 tackles. Nolan Weber and Kyle Ardissono were in on 15 stops. Mick and Isaac Else had 16 and 11 tackles, respectively.
Playing their last games for BDS were Meyer, Josiah Kamler, Christensen, Caleb Hendrickson, Dickson, Heath Calvert, Schroeder, Kamler and Jacob Schoenholz.