Eagles Fly Back Into Lincoln
Details

Published on Tuesday, 06 November 2018 21:24
Written by thenebraskasigna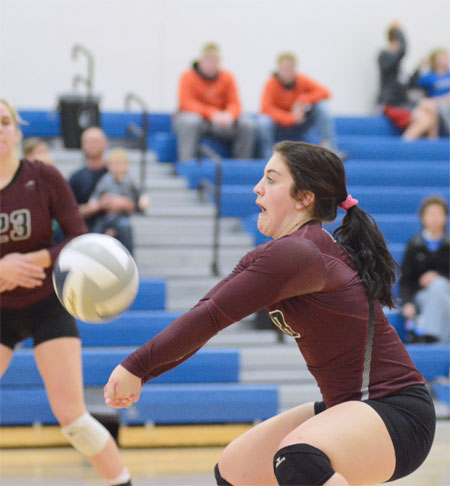 Bruning-Davenport/Shickley continued its brilliant 2018 campaign with three post-season victories and will head into the 2018 NSAA Class D-2 State Tournament as the No. 2 seed. The 27-4 Eagles open play in Lincoln this Thursday at 5:30 p.m., with a match against Cody-Kilgore (25-5) at Lincoln Southeast High School. A win against the Lady Cowboys would have BDS playing the Mullen (27-3) and 25-7 CWC winner at 11 a.m., on the North court at the Pinnacle Bank Arena. The Class D-2 final begins at 9 a.m., this Saturday. BDS finished in third place in Class D-1 a season ago.
To advance to Lincoln again, the Eagles rolled past Maywood/Hayes Center 25-16, 25-12, 25-12 at Kearney High School on Saturday afternoon.
"Our ladies were very aggressive with the attack today," BDS coach Kari Jo Alfs said. "It was nice to play in a bigger gym...different environment...to prepare us for Lincoln.
"We are very excited to return to Lincoln for a second straight year. We came home with the third-place trophy last year but our girls have bigger goals in mind this year. The Top 8 teams in the wildcard standings all advanced, so it will be a very competitive State Tournament."
Jadyn Kleinschmidt pounded a dozen kills on Saturday against the Wolves. Macy Kamler added nine terminations and Regan Alfs had eight. Jordan Bolte tallied 16 ace sets and Alfs had six. Kleinschmidt belted five ace serves and both Bolte and Sera Johnson ripped a pair.
Kleinschmidt paced the defense with 12 digs. Alfs had 10 digs and three ace blocks. Kamler tallied six digs and Caitlin Mosier and Johnson both had four digs. Mariah Sliva had two ace blocks.
BDS advanced to the state play-in game after claiming the D2-2 Sub-district title on Tuesday in Centennial. The Eagles got past Exeter-Milligan 25-23, 29-25, 25-15, 25-21 in Utica.
BDS trailed early in the first set before a Kleinschmidt kill had the Eagles up 21-19 late in the stanza. An Alfs kill sealed the set. BDS led the second set before Anna Sluka served for six straight points for the Timberwolves. E-M then led the set 14-8 and maintained its advantage.
BDS rolled in the third set with advantages of 10-6, 15-8, 17-10 and 21-14. E-M led the fourth set 6-1 before aggressive serving by the Eagles had BDS up 10-6. The set remained close from there with Eagle leads of 12-7, 16-12, 18-12, 18-14, 19-16 and 21-16.
"E-M served very aggressively tonight and I thought our serve receive stepped up," Alfs said. "Our setters did a nice job of getting the ball to our primary hitters, and also to those who don't always get a lot of sets. We had some girls step up big in the send. Our blockers also did a great job of building a wall tonight."
Kleinschmidt had a stellar offensive night dominating the final two sets and pounding 19 kills. Alfs connected on 12 kills and Kamler had 10. Bolte notched 20 assists and Alfs had 15. Kleinschmidt also drilled three aces and Mosier nailed two.
Kleinschmidt also paced the Eagle defense with 19 digs. Alfs had 13 digs and four blocks. Bolte tallied 13 digs. Mosier had 11 digs. Kamler came up with six digs and four blocks. Sliva had a dig and two blocks.
BDS swept Dorchester 25-12, 25-10, 25-11 on Monday night at Centennial. All 14 Eagles played in the win.
Kleinschmidt slapped down 14 kills and Alfs had 10. Bolte tallied 19 assists and Alfs had a dozen. Kleinschmidt nailed five ace serves and Mosier had two.
Schardt, Sliva and Kamler all had two ace blocks. Kamler and Bolte paced the defense with nine digs. Kleinschmidt had seven digs and Mosier recorded five.