BDS Wins State Championship
Details

Published on Tuesday, 13 November 2018 19:07
Written by thenebraskasigna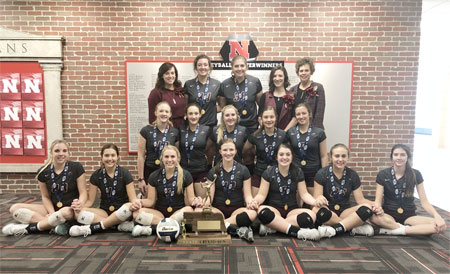 The Class D-2 Bruning-Davenport/Shickley volleyball team never lost a game to a team in its own classification this season.
That can mean only one thing—the Eagles outlasted two-time state runner-up Ewing in a five-set thriller Saturday morning to claim the 2018 Class D-2 State Volleyball Championship. The 30-4 BDS volleyball squad becomes the first girls' State championship team for the B-D-S co-op. The Eagles also become the sixth straight Crossroads Conference Volleyball Tournament champion to win a Class D State title. And, the win on November 10 on the hallowed Devaney Center court was the 100th for Eagle head coach Kari Jo Alfs.
A lot of firsts.
Ewing (31-3) came out quickly and claimed the first set on Championship Saturday in Lincoln. BDS took command of the second set after a 15-15 tie and dominated the third set. The Tigers proved their grit by forcing a fifth set. After six set points, the Eagles claimed the tie-breaker 18-16 and got to bring the hardware back from the Capital city.
"We knew this was going to be a challenge...a tough battle," BDS coach Kari Jo Alfs said. "I felt our block was a little early in the first set and we made some adjustments. I also told the girls to get back to having fun...put some smiles on your faces. I also told them in that final set, the team with the fewest amounts of errors is going to win it."
Ecstatic to be with her teammates after a mid-season health scare, Macy Kamler paced the Eagle offense with 21 kills. Jadyn Kleinschmidt smashed 17 kills. Regan Alfs enjoyed an outstanding all-around game with 11 kills, three ace serves and 19 assists. All three were selected to the Class D-2 All-Tournament team.
Kleinschmidt wasn't worried after her team dropped the first set on Saturday.
"We play our best when we're smiling," she said. "Volleyball is such a fun game to play...we also play too hard to lose."
Regan was confident going into the fifth set.
"We're strong...we're not going to give up," she said.
State-rated No. 1 Ewing used a strong double block to move out to a 13-7 advantage in set No. 1. BDS would rally to make the score 13-11, 15-11, 17-14 and then 22-20 after back-to-back Kleinschmidt kills. A pair of Eagle mistakes helped the Tigers take the first set 25-21. Four Ewing service errors also figured in to help the Eagles stay in the set.
BDS righted the ship in the second set and Senior Caitlin Mosier rattled off a bevy of serves to have the Eagles up 5-0. BDS maintained a slight advantage in the set but couldn't group enough points together to pull away. The score was tied several times down the stretch before the Eagles were able to even the match with a 26-24 set advantage.
Ewing never threatened in the third set. BDS raced out to a 7-2 advantage and led 11-13, 14-5 and then 16-5 after back-to-back Alfs kills. The Eagles claimed the third set, 25-12.
Ewing showed its moxie and slowly moved ahead in the fourth set. The Tigers led 5-3, 10-7, 12-8 and then 15-10. Back-to-back Ewing aces had the Tigers ahead 17-10. The Eagles then went on a 6-3 run to make the score 20-16. It was as close as BDS would get.
"Ewing is a classy team," Alfs said. "It wasn't going to be an easy task to beat them and they made it that way."
Though never in a five-set match this season, Alfs felt her team would be up to the challenge on Saturday morning. The Eagles lost to Class C-2 powerhouse Superior in four sets. The squad's other three loses were suffered in triangulars when Kamler was on the mend.
"We're a team that doesn't worry about what happened," Alfs said. "We knew we can if we had to."
The fifth set was a back-and-forth affair as it should be with BDS maintaining slight advantages up to 8-8. A Tiger net violation had the Eagles up 10-8. A wide Ewing hit had BDS in position at 13-10. The Eagles were then in prime position at 14-11 before the Tigers refused to submit and tied the set at 14-14. BDS eventually prevailed 18-16 and the Tigers never served for a chance to win the game.
During the final set, freshman Mariah Sliva and roll-players Jennifer Holtzen and Emilie Schardt came up big. These players gained some valuable court experience when they played in a high-profile triangular in Giltner with the Hornets and eventual Class C-2 State Champion Blue Hill. The Eagles learned of Kamler's illness the night before and Alfs and staff quickly shuffled their players and came up with a new game plan.
"I'm a big believer in things happen for a reason," Alfs said. "We didn't know what was going to happen with Macy...but yet, we had to put something together...these girls gained good confidence with the quality touches they received then. They were not afraid today.
"We knew this was going to have to be a total team effort from everyone for us to come through...also, the girls knew they needed Macy to accomplish their team goals. They welcomed her back...we had to have Macy back to win this...it was a total team effort."
Now, the BDS girls have something to brag back to their Eagle football State champions.
"We finally did it," Kleinschmidt said.
Alfs acknowledged Kleinschmidt for being with her all through her 100 wins at BDS. She also mentioned former Shickley coaching legend Dan Sorge as being a mentor for her. Alfs also mentioned that she plans on continuing the Longhorn tradition of volleyball excellence at BDS.
"There's lots of tradition being built here at BDS," Alfs said. "These girls work hard in the off-season...this title really means a lot...you finally have something...something that we really, really wanted. It's special."
Schardt and Holtzen both had two kills in the finals. Jordan Bolte put up 25 assists. Kleinschmidt had 21 digs and Kamler had 15 digs and three blocks. Bolte had 12 digs and two blocks. Schardt had five blocks. Alfs and Holtzen had two blocks each.
The Eagles advanced to Saturday with a 25-13, 25-17, 25-18 win over Mullen in the semi-finals on Friday. Kleinschmidt pounded 18 kills against the Broncos and Kamler smacked 10 terminations. Sera Johnson ripped three ace serves in the win. Kamler paced the defense with 21 digs and Alfs put up 21 assists.