EMF One Game From D-1 State Final
Details

Published on Tuesday, 20 November 2018 20:48
Written by thenebraskasigna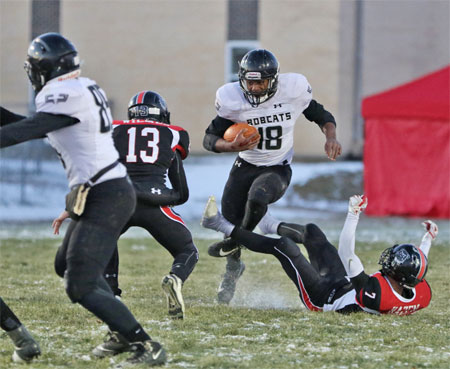 For its first year of existence, one would have to feel the Exeter-Milligan/Friend football team exceeded expectations in 2018.
The Bobcats fell to top-seeded Creighton 72-26 last Monday afternoon to bow out of the NSAA Class D-1 State Football Play-offs one win short of playing in Memorial Stadium in Lincoln. The Bobcats dream season came to an end on the frozen field in Knox County—the victim of too many early turnovers and the one-two cousin punch of Brayden and Bryce Zimmerer. The loss to the Bulldogs ended EMF's inaugural season at 11-1. Creighton (12-0) went on to face unbeaten Burwell in the D-1 State title game on Monday, November 19.
Creighton scored the first four touchdowns of the game on November 12. Brayden Zimmerer hooked up with Brendan Waldrow and Thad Hazen for scores and also added a TD scamper. Bryce Zimmerer zipped home from 50 yards out, as well.
The Bobcats got on the scoreboard in the second quarter when Edwen Baptista scooped up a Bulldog fumble and raced 32 yards for the score. EMF quarterback Spencer Pribyl converted the PAT run to make the score 30-8. Creighton's Bryce Zimmerer would gallop in two more times in the second quarter and the Bulldog defense would add a safety to make the score stand 48-8 at intermission.
Both teams substituted freely in the second half in the chilly and less-than-ideal playing conditions. The two squads combined for 10 turnovers in the east bracket semi-final contest.
Baptista scored twice for the Bobcats in the second half with runs of three and 11 yards. The senior running back finished the game with 71 yards on 14 carries. EMF added a second fumble recovery score to complete its scoring at 26.
Pribyl went 3-for-7 through the air for 23 yards. Mitchell Manning rushed nine times for 63 yards. Max Zeleny caught one pass for 15 yards. Trever Zelenka had one reception for eight yards.
Manning paced the defense with 9.5 tackles. Zeleney had six stops and Colton Bossaller had 4.5 tackles. Baptista had 3.5 stops and both Johnny Babula and Peyton Pribyl had three tackles. Slater Wells was in on 2.5 stops. Zelenka and Ryan Sharp had tackles for losses.
Creighton had 21 first downs and 476 total yards of offense. EMF had nine first downs and 150 total yards. Only three penalties were whistled for 25 yards.
Playing in their last games for the Bobcats were: Zelenka, Baptista, S. Pribyl, Babula, Manning, Wells and Bossaller.