Look For E-M To Be Back In Lincoln
Details

Published on Tuesday, 04 December 2018 20:14
Written by thenebraskasigna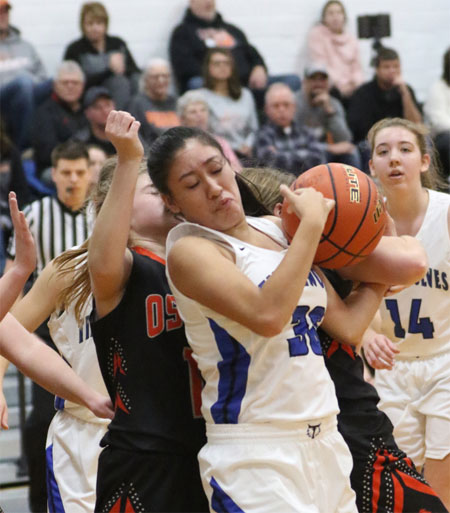 If Exeter-Milligan All-Stater Kate Jansky keeps scoring 30 points a game, the Timberwolves are going to win a lot of games. And, E-M head coach Jackson Krejci will easily eclipse 200 career win plateau this season.
The state-rated Timber-wolves have began their season with wins over Deshler, 56-41, and Osceola, 59-15. Jansky scored 27 against the Dragons and 33 against the Bulldogs. Katherine White added 15 against Deshler and Kayla Geiger netted a dozen against Osceola on Friday night.
"We will have 11 girls out this year," said E-M coach Jackson Krejci in his pre-season write-up. "Leading the way will be our two seniors K.K. and Kate. Kate was first team All-State last year and led the team in scoring at 15 ppg and made 59 3-pointers. K.K. brings back versatility for our team being able to play guard or post. She scored nine ppg and averaged six rebounds per game. We will be more of a guard oriented team this year with some good speed. Our team defense will be a strength but will need to develop some depth in the post as we lost two solid inside players from last year. Other returning letter winners that we are looking to step up this year include: Kayla Geiger and Jaiden Papik."
E-M was 23-7 and third at State a season ago.
Emma Olson scored six points at Deshler and Papik added five. Alexis Turrubiates added a bucket and Geiger canned a free throw. E-M led the Dragons 31-18 at intermission.
Turrubiates, Papik and Daisy Kanode all scored four against Osceola in Exeter. White added a bucket and four rebounds. Janksy, Geiger and Turrubiates all had four rebounds, too. Geiger dished out six assists.
The 2-0 Timberwolves play at East Butler (Tuesday) and Dorchester (Thursday) this week before hosting Heartland this Friday night.