New mayor; new city attorney
Details

Published on Tuesday, 11 December 2018 18:59
Written by thenebraskasigna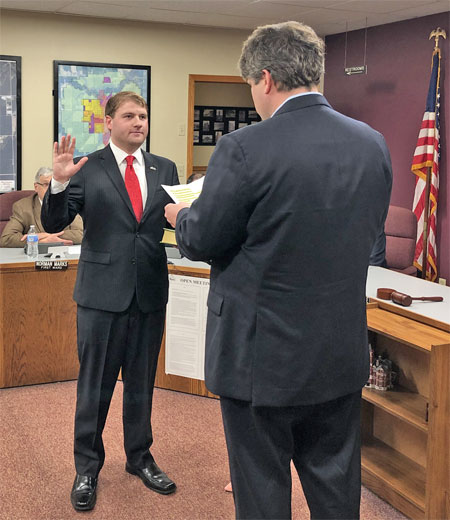 By GREG SCELLIN
Signal Editor
The first of apparently several changes in Geneva city government took place on Monday, December 3, as former Geneva City Council President Eric Kamler was sworn in as Geneva mayor. Before Kamler's Oath of Office, Geneva City Administrator Kyle Svec presented outgoing Geneva Mayor Rod Norrie a plaque and gavel acknowledging Norrie's 16 years of service as mayor. Svec has served as city administrator along side Norrie for 14 years.
"I want to thank the citizens of Geneva for giving me the opportunity to serve them all these years," Norrie said. "I also want to say thanks for the good times spent here with city staff..."
Kamler administered the Oath of Office to new Second Ward Councilwoman Joni Karcher, along with Jean Engle and Jim Donovan, who ran unopposed for the council seats this fall. The Geneva City Sales Tax collection was a healthy $62,234.99 for September of this year.
Next, the city council voted for council president by secret ballot. Councilman Josh Turner received three votes; Donovan two votes and Engle one vote. Turner will be the new council president.
Kamler then presented the city council a lengthy list of new mayoral appointments. Donovan asked if Kamler's appointment for city attorney, David Solheim of Crete, could be separated from the others. Kamler opted not to re-appoint Geneva attorney Joe Bixby as city attorney. Bixby has been the city attorney since 1979.
"I have some concerns with this appointment," Donovan said. "I don't like to see money go out of town...Joe has a business here on main street...he employs people here. I also think we are giving up a lot of knowledge on what has happened here in the city."
Donovan also noted the easy access to Bixby here in Geneva for himself, other council members and city staff. Donovan also questioned what Solheim would be paid.
"I share the same concerns as Jim," Councilman Norman Marks said. "It's a real convenience of having a man here to the mayor's left. I think we should stay with what we have."
Upon being questioned about these comments, Kamler said he's still in negotiations with Solheim.
"I've put in a lot of thought...I made the decision to go with David Solheim," Kamler said.
When pressed further, Kamler said the current city attorney budget is $17,000 and he could see Solheim costing the city 30 to 40 percent more. He said he will have a financial packet ready for the next city council meeting.
The city council voted 4-2 (Donovan, Marks—no) to approve Kamler's appointment of Solheim as city attorney. Solheim operates a one-year old law office in Crete with his wife. He was the deputy Washington County attorney in 2012 and the Hancock County (Iowa) attorney in 2013. He was also the UNL student body president in 2007.
Additional new mayoral appointments include: Nick Treinen, Parks and Recreation Board; Svec, Geneva City Sales Tax program administrator; Christin Lovegrove, Economic Development Committee; Ian Hrasky and Andrea Mumm, Sales Tax Citizen Advisory Review Committee; and Dan Taylor, Paul Filipi, Bryan Nun, Pastor Stuart Davis and Holli Lovegrove, Planning Commission.
During his city administrator's report, Svec noted that JEO Consulting Group and First National staff members are working on items concerning the new Geneva Fire Station. Svec noted a timeline could be bidding on the project in March of 2019 with construction to begin in late April. Svec noted the Geneva Rural Fire Board will also be going through the same process.
"I hope to have a better idea on the bond process soon," Svec said.