E-M 5-0; No. 1 In D-2 Wildcard Points
Details

Published on Tuesday, 11 December 2018 19:06
Written by thenebraskasigna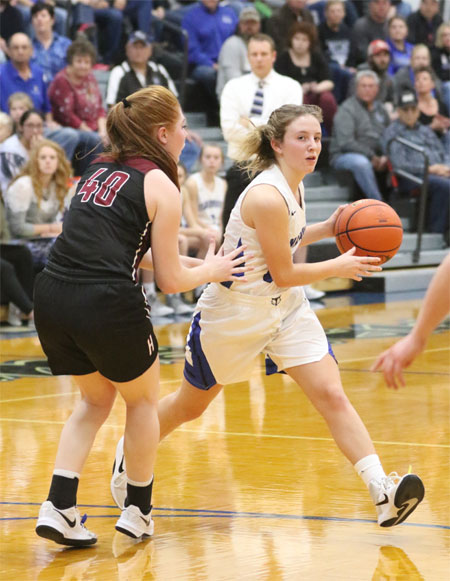 The Exeter-Milligan girls improved to 5-0 on the season and No. 1 in wildcard points in Class D-2 with three victories last week on the hardwood.
The Timberwolves opened up play with a 59-29 win at East Butler. E-M led the contest 39-11 at halftime. The Timberwolves were 7-for-12 (58 percent) from beyond the 3-point arc on December 4. The Tigers shot a meager 15 percent (10-for-63) from the field in the loss.
Kate Jansky poured in 23 points (including a rock solid 7-for-10 performance from 3-point land) for the winners. Alexis Turrubiates added 11 points and Katherine White netted nine points and grabbed 13 rebounds. Emma Olsen snagged nine rebounds and scored seven points for the winners. Cammie Harrison added three points and Kayla Geiger, Jaiden Papik and Cameran Jansky all added a bucket.
On Thursday, E-M doubled up Dorchester, 49-23. The Timberwolves led the contest 22-5 at intermission. E-M shot 41 percent (21-for-51) from the floor.
Jansky canned five treys en route to 25 points. White netted nine points and grabbed 10 rebounds. The senior forward also dished out six assists. Turrubiates added six points and Geiger put in five. Papik scored four.
On Friday, E-M rolled early again and raced past Heartland 40-27. The Timberwolves scored 19 first-quarter points en route to a 27-14 halftime advantage. E-M was a solid 42 percent (18-for-42) from the floor, while the Huskies struggled mightily, converting just 9-of-55 attempts for 16 percent. Heartland was best on the glass, 27-24. Both teams were whistled for 37 turnovers total.
Jansky swished in 20 points to lead all scorers. White netted seven points and grabbed seven rebounds. Papik scored five points and Olsen, Geiger, Turribates and Jansky all added two points. Geiger had three assists. Jansky and White both had three blocks.