Fillmore County Board meets for last time in 2018
Details

Published on Wednesday, 02 January 2019 17:56
Written by thenebraskasigna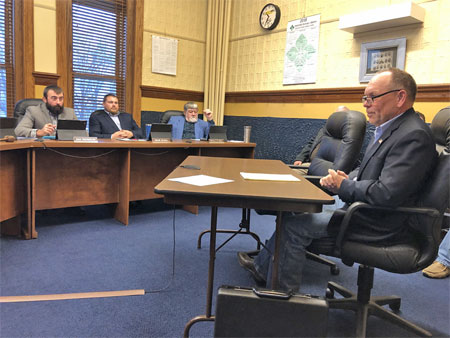 By GREG SCELLIN
Signal Editor
The Fillmore County Board of Supervisors approved the 2017/2018 County Audit, made some board appointments, discussed plugged culverts and talked with 32nd Legislative District State Senator-elect Tom Brandt at the board's last meeting of 2018.
Contryman Associates, P.C., performed the audit for a fee of $12,800. Fillmore County Clerk Amy Nelson said her and Fillmore County Treasurer Barbara Trapp went through and checked the numbers for accuracy. The supervisors also appointed Tyler Williams to the Fillmore County Hospital Governing Board and Mike Rath and Frank Richards to the Grafton Township Board.
Supervisor Wade Sluka noted Williams has attended the last two hospital board meetings. "He's all on board with it," Sluka said. "He will be good on it."
During the County Roads Department part of the meeting, Fillmore County Highway Superintendent Pat Halbur asked the county board for guidance on how to deal with plugged culverts in the spring. "We just have some out there that are real problems," Halbur said.
After discussion, the general consensus was to flag the culverts that are creating problems with the county roads by them and allow landowners time to correct the problems. If no action is taken, county workers will take action and landowners will be billed.
Brandt stayed at the December 26 meeting for over an hour. Supervisor Merle Noel asked him to attend the meeting to make note that there needs to be changes in the permitting process for heavy loads on state highways. Noel noted a specific instance that occurred recently on State Highway 74 near Shickley. Noel would like to see rules set in place that did not allow windmill transport on state highways.
Brandt told the supervisors that his visit last week marks the fourth of five county board visits he has made. He told the supervisors, he was there to hear what they wanted him to work on in Lincoln. Among the topics discussed were school funding, increases in sale taxes, elimination of sales tax exclusions, staffing, construction at the State Capital, unfunded federal and state mandates, failing bridges and more money for roads.
One of the last topics discussed was collecting state sales tax on internet sales. "It's a struggle to be a business person on main street right now," Brandt said.
Brandt also commended Fillmore County officials on the direction the county is moving in.
Other December 26 agenda items included:
• Once more gravel is added to the west portion of County Road B between County Road 1 and County Road 2 by Grafton Township, the county will begin maintaining it. A new residence is being built on this section of road.
• The 2019 mileage rate was set at 58 cents.
• Three subdivisions were approved ranging in size from 3.33 to 4.76 acres.
• The slow progress on the steel going up at the new County Shop Office location. "I don't want anyone to cut any corners because of this," Board Chairman Jeff Neiman said.
• New supervisors Ralph Graham, Mark Lightwine and Kenny Harre all attended the meeting. The board reorganization meeting will begin at 9:30 a.m., on Thursday, January 3.
• New County Treasurer Darcy Nun is being placed on accounts that previously had Trapp authorized on them.