Heritage Crossings Injury Free
Details

Published on Thursday, 03 January 2019 14:51
Written by thenebraskasigna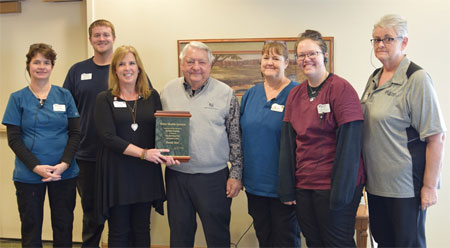 According to the United States Department of Labor, in the state of Nebraska, as of December 9, so far for the year, Nebraska has paid out a total of $9.864 million for workers compensation. They have also paid out $875,961 in medical bills, so far this year. This doesn't take into account the loss of hours at companies, travel time for doctor appointments, or other added expenses that go along with employees missing work.
In the healthcare field, several different departments work every single day, caring for and serving others, making sure our team is at the top of our game, taking safety into account every step of every day is not only important but a lifestyle at Heritage Crossings in Geneva. Because of everyone on our teams hard work and determination, November 8, 2018, marked the achievement of One Year Injury Free for the staff of Heritage Crossings.
How do we achieve being injury free while transferring and transporting residents, standing on ladders, moving furniture, cooking three plus meals a day, grounds work outside, helping residents use walkers, wheel chairs and do physical therapy? We do it by living by our Mission Vision Values.
Mission:
"DIGINITY IN LIFE."
Vision:
QUALITY LIFE. We will create a living environment that radiates love, peace, spiritual contentment, dignity and safety, while encouraging personal independence.
QUALITY CARE. We will dedicate ourselves to provide personalized care and services that achieve extraordinary results and exceed the expectations of those we serve.
EXCELLENT TEAMS. We will select and develop team members who radiate warmth, compassion, and respect while skillfully performing their duties.
OUTSTANDING FACILITIES. We will develop buildings and grounds that enhance quality life and are recognized as attractive landmarks in their community.
QUALITY REPUTATION. We will be known for promoting relationships of trust, confidence and loyalty through the quality of our services, the honesty of our people, and involvement in our community.
STEWARDSHIP. We will be responsible stewards of our resources to serve our residents, ensure the long-term financial stability of the company, reinvest in our people and facilities, and pursue growth opportunities.
Values:
SERVING. We succeed by focusing our attention and energies on anticipating and exceeding people's expectations. Our actions are driven by a "Yes, I Can" attitude and the commitment that we are "Family Serving Family."
INTEGRITY. Our relationships, services and decisions will speak for our desire to always act with honesty, fairness, and compassion. People learn from interacting with us that they can trust us to be who we say we are and do what we say we'll do. We strive to act in a way that will make God smile at our efforts.
TEAMWORK. Our relationships are built on mutual trust and respect. We recognize the value and worth of each person we are privileged to encounter, work with, and serve. We seek to understand what is important to others and let people know they are appreciated for who they are and what they do.
EXCELLENCE. We continually pursue opportunities to improve ourselves and the services we provide. We learn from our experiences, build on our successes, and make changes when changes are beneficial. We develop people's strengths and remain committed to becoming the Best of the Best.
Team achievements and celebrations are just one of the many reasons Vetter Senior Living & Heritage Crossings was certified as a Great Places To Work & Best Workplaces for Aging Services in 2018.
The home office from Elkhorn came to Geneva on November 28, to help us celebrate by preparing our team a delicious meal of grilled steak, chicken, veggies, salads and of course dessert. Staff also truly appreciated the bonus money that they were awarded for all their hard work and dedication.