Eagle Boys Down SC, EB
Details

Published on Thursday, 03 January 2019 14:54
Written by thenebraskasigna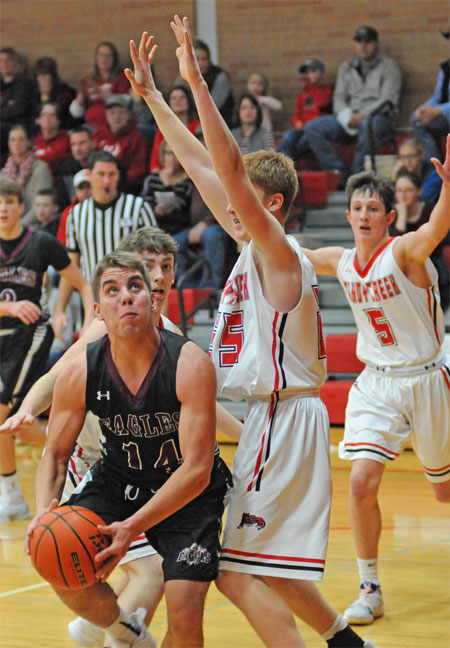 On Thursday, December 20, Bruning-Davenport/Shickley traveled to Sandy Creek for the first round of the Runza Hardwood Classic. The Eagles took advantage of some strong early shooting from Josh Swartzendruber and Josiah Kamler as they took a 27-15 lead into the half.
The third quarter was a struggle for both teams in the scoring column, but BDS held onto a 33-20 lead going into the fourth. While the Eagles were in a position to comfortably take the game, the upset-minded Cougars had other ideas.
In the fourth quarter, the Cougars used a physical full-court defense that caused trouble for the Eagles as they climbed within two points in the game. The Eagles had to toughen up, and they did as they were able to hit just enough free throws to come away with the four-point win.
"They forced their will on us in the fourth quarter and it took us longer than I would have liked for us to respond to it," BDS coach Greg Schroeder said. "We didn't shoot great free throws, but fortunately made enough to get out of here with a win." Hopefully, we learn from this as we need to each game as we have a lot of new faces learning to step up in situations like this."
With the win, the 6-1 Eagles advanced in the tournament to face Central City next Friday at Central City.
BDS: 14-13-6-10-43
SC: 9-6-5-19-39
BDS: L. Schroeder 7, J. Kamler 3, J Grote 10, Swartzendruber 3, I. Kamler 6, E. Schroeder 5, Weber 7, Ardissono 2
o-o-o
On Friday, December 21, the East Butler Tigers traveled to Bruning for an afternoon tilt to make up an earlier season postponement. The Eagles lacked energy for much of the game while East Butler's J. Rhynalds came out firing scoring a game-high 32 points. The Eagles had this to battle through the game and were able to get to just a one-point deficit by the end of the third quarter.
In the fourth period, the Eagles finally came alive, particularly at the free throw line to end with an eight-point win 46-38.
"We played tired on the defensive end and our communication was really poor," Schroeder said. Thankfully, we woke up in the fourth quarter and played better basketball. We shot free throws really well tonight (16-for-18) which really helped us this evening."
The Eagles were led by a strong rebounding effort by Isaac Kamler and six assists from Eric Schroeder. The Eagles return to action Friday, December 28, versus Central City and Saturday, December 29, TBD in the Runza Hardwood Classic in Central City.
EB: 14 – 5 – 10 – 9 – 38
BDS: 8– 14 – 6 –18 - 46
BDS: L. Schroeder 8, J. Kamler 2, J. Grote 7, I. Kamler 2, E. Schroeder 7, Weber 9, Ardissono 11