Panthers Knock Off C-2, No. 1 Superior
Details

Published on Tuesday, 08 January 2019 15:46
Written by thenebraskasigna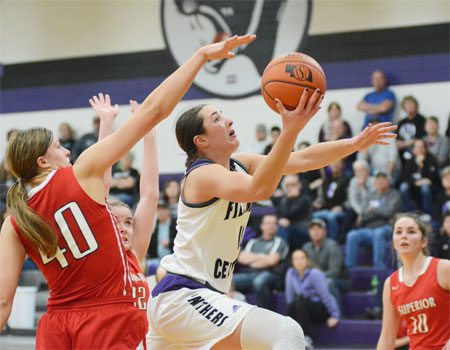 Fillmore Central used its home-court advantage and foul trouble suffered by Superior All-Stater Kalynn Meyer to upend the defending Class C-2 State Champions 53-52 Saturday afternoon in Geneva. The Panthers improved to 9-3 on the year and No. 3 in Class C-2 Wildcard points. The Wildcats dropped their first game of the season and are now 10-1 on the year.
FC guards Jackie Schelkopf and Macy Scott provided the bulk of the Panther offense with both scoring 14. Erin Schmidt, Halle Theis and Lexi Theis battled the Wildcat height and scored nine, six and seven points, respectively. Abby Nichols provided quality defense and also netted three points for the winners. Meyer would eventually foul out late in the contest and led all scorers with 21 points.
FC led 28-25 at halftime before Superior outscored the home team 14-7 in the third period to lead 39-35 heading into the final period of play on January 5.
o-o-o
The Fillmore Central girls improved to 8-3 on the season (No. 5 in wildcard points in Class C-2) with a 67-38 victory over Central City on Thursday, January 3. A total of 10 Panthers scored in the home-court rout.
FC led the contest 33-16 at intermission and 51-24 after three periods of play. The Panthers were 9-of-13 from the charity stripe and also drilled eight 3-pointers.
Erin Schmidt and Lexi Theis paced the FC offense with 13 and 12 points, respectively. Macy Scott knocked in eight points and Abby Nichols had seven. Jackie Schelkopf and Halle Theis both scored six points. Abbi Smith and Rhiannon Shaner both laced in five points. Jordan Broman added three points and Lauryn Monteforte added a bucket.
The Panther girls finished 1-1 at their Holiday tournament in Louisville. FC fell to the host team, 10-1, Class C-1 Louisville, 49-43, and crushed Class B Ralston, 59-25. FC's three loses have all come at the hands of state-rated squads.
The Panthers play at Heartland this Thursday.