New PAs push provider number back up to 9
Details

Published on Tuesday, 05 February 2019 15:16
Written by thenebraskasigna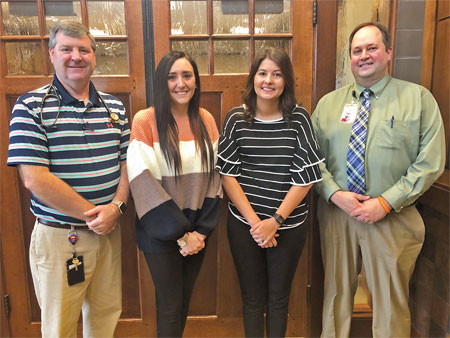 By GREG SCELLIN
Signal Editor
It takes nine to play baseball or softball.
Cats are thought to have nine lives.
For Fillmore County Medical Center (FCMC) owner Dr. Jason Bespalec, it takes nine providers to keep local patient needs covered and allow staff enough down time to enjoy a good lifestyle.
And luckily enough, two newly board-certified physician assistants have decided to work in Geneva. Micheala Houchin PA-C and Natasha Wehrman PA-C will begin working full-time at the FCMC later this month. The pair will join Bespalec and fellow doctors Jeffrey R. Hollis, M.D., and Alanna R. Beckman, M.D., along with PA-C's Russ Coash, Michelle Dorsey, Marirose Fox and Danielle M. Jaeger providing services at FCMC, emergency room and other medical duties at the Fillmore County Hospital (FCH) and local nursing and long-term facilities.
"I feel our magic number right now is nine," Bespalec said. "We have been down a couple providers and I have been looking to replace them for awhile now. These two are from the area and are so good clinically that I was ready to offer them a job right away. My main recruitment goal remains trying to get another OB doctor to Geneva. Our sweet spot number is nine. This will be very nice for all of us. It will mean we can offer and cover a lot more patient slots. It will also provide us with a good lifestyle with on-call duties."
Houchin (maiden name Marsh) is a Thayer Central graduate and married Bruning-Davenport alum Michael Houchin in September of 2018. Houchin farms with his family and works for Ross Houck. Mrs. Houchin worked as a diagnosis medical ultrasonographer at Bryan Health before graduating from the University of Nebraska Medical Center (UNMC) as a physician assistant last year. Houchin said she fell in love with the local medical center and FCH while doing her PA rotations.
"I was just impressed how inviting it was...just so friendly," Houchin said. "None of my other rotations felt anything like it. Growing up in a small town, I always knew I wanted to serve people in a rural setting. Michael's and my family are here in the area...parents...grandparents. I grew up on a farm, too. It's neat to grow up here and be back to help people here. It's great to be back. There's no place like Nebraska."
Wehrman and her fiancee were able to find a house in Geneva and have moved in.
"All of sudden, like five came on the market and we were able to find one we liked," Wehrman said.
The Lawrence/Nelson graduate worked as a radiological technician at the St. Francis Medical Center in Grand Island and at Twin Rivers Urgent Care in Hastings before and while graduating from UNMC as a physician assistant. She, too, was hooked after her PA rotation in Geneva.
"I've wanted to come here since my clinical rotation," Wehrman said. "It was my first rotation and I loved it...I talked so much about it my finance told me right away 'you love it there way too much, you will be there.' I just liked it so much...it's so nice to have the variety that you have here. You get to see a little bit of everything."
FCH CEO Chris Nichols is excited to have the two new PAs begin practicing in Geneva.
"We're super lucky to have these two," Nichols said. "When they were here as students, they impressed us as good people first. The bonus is that their clinical skills are so strong. I feel this is going to be a perfect fit. We're lucky to get these two ladies—and they are here for the long haul."
Houchin noted that she has always seen herself becoming a physician assistant after she decided on the medical field.
"I always knew that I wanted to be able to help people long term," Houchin said. "To help them from start to finish. To see them through all their needs. And, I always knew I wanted to come serve in a smaller-town setting."
Wehrman wasn't so sure. FCH's Touchstone Orthopaedics PA-C Josh Reiners talked with the former Rodeo queen from Nelson at her work in Hastings and mentioned becoming a physician assistant and helped get her to Geneva.
"I didn't know I wanted to be a PA," Wehrman said. "I liked it, but I didn't love it. I talked with Josh and he helped me learn the whole story. He encouraged me and now I'm here working with him."
Both Houchin and Wehrman graduated in the same class in Kearney. Bespalec said the two new PAs can't see the full gamut of patients until all the necessary licensing credentials are obtained. Both have passed their boards—it's just getting the third-party payer and other paperwork processed. This could take 90 days. Bespalec also commented that he much prefers physician assistants over nurse practitioners for providing coverage in his clinic.
"We want to get them seeing the people of Fillmore County and the area right away," Bespalec said. "A PA has way more clinical experience (than a nurse practitioner). PAs just have so many more clinical hours. They can give you a personal touch...they have hands-on experience. They're from the area. They will have name recognition. I want them to start seeing patients right away."
Bespalec also noted the family practice atmosphere at FCMC will be a plus for the two new PAs.
"We all work together in the clinic," Bespalec said. "It's one of the biggest joys of practicing in a group practice."
"Knowing the mentorship that we're going to get here and the support we're going to get is huge," Wehrman said. "I'm excited to get started and get back into a routine. This has just worked out really, really well."
"A family practice is it for me," Houchin said. "The variety...really, the continuity of care from kids up to the grandparents—you cover it all."
Nichols is excited to see the two young women begin serving the medical needs of the local area and start a history with FCH.
"I see this as the perfect size for these two," the FCH CEO said. "They grew up in a rural setting and they have a good sense of community. Their backgrounds are so appealing to us. They also have a leg up on how a clinic and a hospital works. Their knowledge of imaging is also so valuable."