Human Trafficking Speaker In Shickley
Details

Published on Tuesday, 19 February 2019 18:17
Written by thenebraskasigna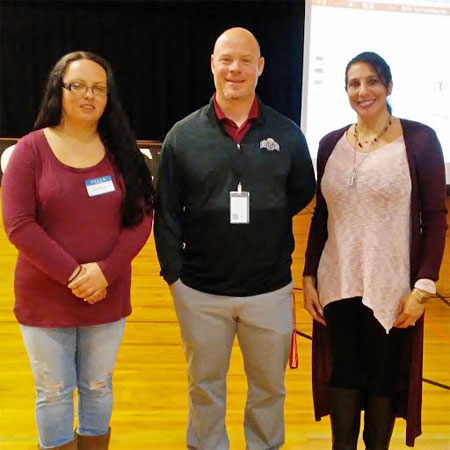 Fillmore County CASA in partnership with CASA of South Central refers Youth Speaker Stephanie Olson, CEO from the Set Me Free Project in Omaha, to speak at Shickley school, along with Bruning-Davenport students.
Last Fall, Fillmore County CASA board members and staff sponsored a human trafficking educational event in Geneva at the Geneva Public Library. This event was focused on educating parents, teachers, hospital staff and other professionals in the community about human trafficking in Nebraska.
After this event, there were attendees that expressed a great interest for CASA to help bring speakers to Fillmore County that would talk with youth about human trafficking and social media safety. Deb Mohlman, Volunteer Coordinator for CASA, did some research and found the Set Me Free Project from Omaha, which specializes in educating youth and helping them stay safe.
After CASA staff consulted with Erik Sokol, principal of Shickley Public School, he agreed to work with CASA and help arrange for Stephanie Olson, CEO of Set Me Free Project from Omaha, to come out and talk to students about human trafficking and social media safety. Bruning and Davenport students also attended this event.
Per their Website, https://www.setmefreeproject.net, the Set Me Free Project desires to bring prevention education to youth and families to stop trafficking before it starts. They do that by offering prevention education to help eradicate sex trafficking. They empower youth and young adults by teaching them to value themselves and give them tools to help protect them from the evils of trafficking. Their vision is best described as to see sex trafficking eradicated by providing every child, parent, educator, mentor, professional and community member prevention education; to provide knowledge and tools required to protect and prevent youth from becoming a victim of trafficking.
The Set Me Free Project offers their services at no charge. Their speakers travel to schools, youth groups and communities to implement interactive presentations designed to deliver critical information and empower youth by teaching them to value themselves, give them tools to help protect them from the evils of trafficking, as well as make them aware of the potential dangers of social media. In addition, they use separate and specific curriculum to educate parents, educators, mentors, service providers and community members to help keep youth safe.
This event was held on February 1, at the school in Shickley. Mohlman and new volunteer-in-training Candie Huddleston, also attended these presentations. In addition, CASA is very grateful for Shickley and Bruning-Davenport staff for supporting this event for their students and the positive feedback and reviews.
Mohlman would like to continue to help coordinate with other schools and organizations in the future. Olson states she also specializes with talking with various groups and age levels and adults.
In conclusion, Fillmore County CASA's main goal is still to provide Court Appointed Special Advocates for Abused and Neglected children in the court system, along with helping children stay safe. It takes a village to help make that possible.
Any questions can be directed to Geneva CASA office at 402-759-4975.