Haecker selected as new B-D superintendent
Details

Published on Tuesday, 30 April 2019 18:26
Written by thenebraskasigna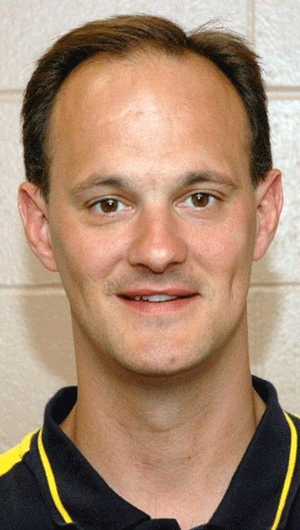 By Nancy McGill
Special to The Nebraska Signal
Kolin Haecker, the current 6-12 principal at Raymond Central Public Schools, has agreed to join Bruning-Davenport USD as the district's new permanent superintendent.
He will step in on July 1 to fill outgoing superintendent Trudy Clark's chair and that is something the board of education noted — it is the first time most of them are seeing a change in the position.
"It's a new experience for everyone," B-D School Board President Mike Schroeder said. "It will be interesting. We'll make it work."
Haecker had passion, Schroeder said.
"It was tough for us to decide," said Schroeder of the five candidates they interviewed. "They all would have done a good job for everybody."
Haecker is new to the superintendent's position. He became certified at Doane College recently and graduated in December.
"I'm excited for the opportunity and the challenge. My family and I are excited to come to the area and we're looking forward to the years to come," he said.
His wife, Crystal, is preparing as well. She will be teaching in the Sandy Creek School District. Their oldest daughter will be a senior at Bruning-Davenport. The couple has two other children, one teaching in Syracuse and the other, a student at Bryan Health in Lincoln.
In the time Haecker has served at Raymond Central, ACT and reading scores have increased as well as graduation requirements to add more rigor to the program.
"Most important, we have a team effort here. They are a great staff to work with," Haecker said.
Raymond Central (is located just northwest of Lincoln in Lancaster and Saunders counties) also added sixth grade and a preschool to his building. There were two major building projects — a new addition and renovation went through with a bond.
Asked why he applied to Bruning-Davenport, Haecker said he approached the idea of where, as a parent, he would want his children to attend school. The Bruning-Davenport School District matched his personal criteria.
Haecker's teaching philosophy zeros in on students.
"It's very important to build relationships with students. When you have that, good learning and teaching happen. Teachers work for students and students work for teachers," he said.
"We liked his energy," Schroeder said. "I think he's excited to get his feet wet. Raymond Central is a little like us. They have three different sites for schools and the same challenges with transportation and getting people to the right spots."