Wind hearing gets intense
Details

Published on Tuesday, 21 May 2019 15:36
Written by thenebraskasigna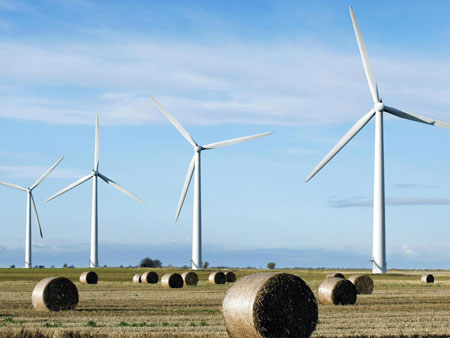 By GREG SCELLIN
Signal Editor
About 40 people attended the afternoon Public Hearing concerning the Conditional Use Permit (CUP) filed by EDF Renewables, North America, to construct, operate and maintain nine 600-foot, Utility Grade Wind Energy Systems (Milligan 1 Wind, LLC) mainly between County Road Q and County Road R from County Road 20 to the Fillmore/Saline County line, south and southwest of Milligan. And, as probably expected, most all of the comments were against the Fillmore County Board of Supervisors granting the CUP on Tuesday, May 14.
Fillmore County Board Chairman Jeff Neiman opened the hearing in the basement meeting room of the Geneva Public Library by saying, Let's keep this civil. EDF project manager Logan Winston and EDF development director Todd Eagleston were asked to describe the project to begin the hearing. The pair described EDF as a big company with staying power with over 1,000 employees and having operated in the U.S. for over 30 years. They also commented that Saline and Fillmore counties have been looked at for its wind potential for 10 to 11 years.
"EDF looks for opportunities to meet consumer demand," Eagleston said.
The pair commented that 200 workers are expected to be in the area to construct the wind turbines in Fillmore and Saline counties. They expected eight to 10 full-time permanent jobs to happen in the area. They also estimated the project would generate $45 million in tax revenue and pay $1.25 million per year in lease revenue to land owners for a total of $95.6 million in taxes and revenue over the project's projected 25-year lifespan.
They also addressed decommissioning the project. The estimated cost of decommissioning was $17.5 million, Eagleston said. He noted the components of the project would have an estimated scrap value of $12 million leaving a balance of $6.5 million to remove everything. He said, EDF would post a bond in this amount after year 20. The fact that EDF hasn't filed a Road Work Agreement with Fillmore County was also noted.
From there, area residents and concerned citizens spoke at the hearing. Among the opponents of having the Fillmore County Board of Supervisors granting the CUP to EDF were Scott Vonderfecht, Alex Uldrich, Robert Schropfer, Ron Schropfer, Scott DeLong, Ron Schropfer, Danny Nun and Larry Nun.
Comments included:
• "They make a horrible noise," Vonderfecht said. "Don't give me the..........that they don't. It's the same old song and dance from every new (wind) developer."
• Another person questioned what happens when one of his kids begins to under-perform in school because of the wind turbines. "Is someone going to come in and buy my house for a million dollars?"
• Shadow-flicker and set backs were also discussed, along with loss of saleability of homes and properties. "Don't tell me there's not a problem with these things, because there is," Vonderfecht said.
• DeLong warned the supervisors that the public would resent them if they approved the CUP for EDF. "If you vote this in, they're going to hate you forever," he said. "Vote it down...nothing is going to change (if you do)...life is going to go on....how would you feel if these were going in in your backyard?
• The question if the CUP meets the current county's zoning rules and regulations, what can the county board legally do was brought up several times. "Our job is not to vote this in and ruin our lives," Supervisor Ralph Graham said.
• Failed wind projects were brought up, along with the uncertainty of the new wind turbines. Also, the clean-up associated with these type projects was noted. New farming practices were also discussed. "We cannot impede your agricultural production," Eagleston said. Also the possibility of changing the county's zoning rules and regulations was brought up. "Why don't you have a one-mile setback for these?," Vonderfecht asked.
• The wear and tear on county roads was brought up, along with the underground interlinking of the turbines. Energy from the project will be put into the wholesale market through the Southwest Power Pool, Eagleston said. "It will flow to where the need is," he said.
• Many questioned what the end number of wind turbines in Fillmore County will be. "Once you get nine, they snowball quickly," R. Schropfer said. "We used to live in town," D. Nun said. "We moved out to the county to see Nebraska the good life...I don't want to see these big white windmills all around here."
Currently, the closest large wind projects operated by EDF are in Oklahoma—the Great Western Wind Project in the Oklahoma Panhandle counties of Woodward and Ellis (operational in 2016) and Rock Falls Wind in Kay and Grant counties (operational in December of 2017). Eagleston said the wind projects in Fillmore and Saline counties will represent a $300-$400 million investment by EDF. He also said the company would like to break ground on the project yet this year.
The hearing ended after a little over an hour with Neiman saying he would like the granting of the CUP tabled until the next regularly-scheduled board meeting at least. The supervisors voted 7-0 to table the Milligan 1 Wind CUP until further notice.
"I encourage you to get us more, specific information on your claims...what was talked about here," Neiman said. "This is a pretty big decision to be made...I just don't feel comfortable making this decision today."