Local News
Cow-calf Management with Limited Pasture
Details

Published on Monday, 20 November 2017 20:06
Written by thenebraskasigna
By Brandy
VanDeWalle
Cow-calf Management
with Limited Pasture
In a joint effort, Kansas and Nebraska Extension are hosting a 3-meeting series to address some possible options to help maintain cattle inventory with limited perennial pastures. Topics at these meeting will include confined cow feeding and management, usage of corn residue, cover crops and annual forages systems. All of the programs will start at 6:30 p.m. and the ones for us will be held on December 12, 2017 at the Helvering Center in Marysville, KS. Please RSVP to Anastasia Johnson at This email address is being protected from spambots. You need JavaScript enabled to view it. or 785-562-3531. The second meeting will be held December 13, 2017 at the Blue Hill Community Center in Blue Hill, NE. To attend, please RSVP to Brad Schick, This email address is being protected from spambots. You need JavaScript enabled to view it. or 402-746-3417.
Dinner will be provided and there is no cost to attend; however please RSVP to the respective contacts by December 8, 2017 for an accurate meal count. Speakers for the event include extension specialists from Kansas State University and University of Nebraska.
Dr. Mary Drewnoski is a Beef Specialist with UNL based in Lincoln. She will be speaking about "Thinking outside the box: economical forage options". Drewnoski is part of an interdisciplinary team evaluating Economical Systems for Integrated Crop and Livestock Production in Nebraska.
Dr. Jaymelynn Farney, Beef Systems Specialist with Kansas State University, will discuss "The dos and don'ts of cover crop (annual forages) grazing – from a livestock perspective". Farney is housed in the Southeast Research and Extension Center in Parsons, KS where she spends her time working on research and outreach for practical cattle management.
"Confinement cow feeding – the science and the art" is the title of Dr. Karla Jenkins talk. Jenkins is a cow/calf specialist for UNL housed at the Panhandle Research and Extension Center in Scottsbluff, NE. Her research program includes finding more efficient and economical ways to produce beef cattle while sustaining the range resource.
Introductions
I'd like to introduce beef producers to Brad Schick who is the new Extension Educator in Beef Systems based in Webster County and serving the counties of Kearney, Franklin, Adams, Webster, Clay, Nuckolls, Fillmore, and Thayer. He is originally from the Meadow Grove and Battle Creek area in northeast Nebraska and grew up raising primarily corn, soybeans, and some livestock. He attended Concordia University in Seward, NE and earned a Bachelor's of Science degree in biology and minored in chemistry and physical science. Following graduation, he attended the University of Nebraska-Lincoln and earned a Master's degree in Range and Forage Management. He held positions as a Research Manager and Technician and worked in southern Iowa, Lincoln and Mead, NE before accepting his position at Webster County Extension. During graduate school and while working as a Research Manager and Technician, he worked in rangelands, mixed pasture, ruminant nutrition, as well as crop and cover crop areas, and grassland restoration. He can be reached at This email address is being protected from spambots. You need JavaScript enabled to view it. or (402) 746-3417.
Thanksgiving Resources
Wishing you and yours a Happy Thanksgiving and if you need any great information on preparing the meal for Thanksgiving, food safety tips or recipe ideas on what to do with leftovers, don't forget to check out Nebraska Extension's food.unl.edu website.
Pathways To Careers Conference
Details

Published on Monday, 20 November 2017 19:58
Written by thenebraskasigna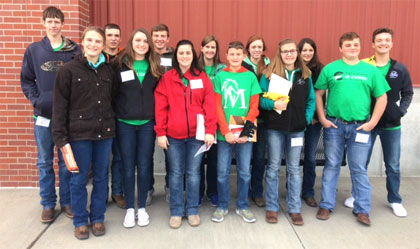 On November 4, members of the Fillmore Central FFA Chapter headed to Grand Island, to attend the state-wide Pathways to Careers Conference. The members who attended the conference with Advisor Mr. VanDeWalle and student teacher Ms. Hartman were: Kenna Asche, Lydia Birky, Tanner Nun, Dylan Vodicka, Joseph Korbelik, Sydney Simacek, Abbi Smith, Sadie Birky, Conner Nun, Gunner Gewecke, Koby Head, Kaylynn Sieber and Kaylea Gieser.
On Friday evening, the students made their own schedule determining which sessions they would attend on Saturday. They also worked together as a group to learn about different traits that a future employer would look for. After that, the students had time to play games and dance. On Friday evening, Mr. VanDeWalle and Ms. Hartman attended the state update to hear reports from the University of Nebraska-Lincoln, Nebraska Department of Agriculture Education and Nebraska Vocational Agriculture Foundation. Mr. VanDeWalle also attended the NE FFA Board meeting.
On Saturday, the students rotated through the six sessions they chose the night before. During the sessions, industry professionals told the students about their career and how they got to where they are today. Many of the sessions included demonstrations or hands-on activities for the students to experience what the industry professional does in their careers. Most of the sessions also included time at the end for students to ask questions.
Some of the companies that were represented at Pathways to Careers were: Mustang Media, Big Iron and the University of Nebraska-Lincoln's Agricultural Leadership Education and Communication (ALEC) Department.
FC FFA member Tanner Nun stated "it was very mind opening." At lunch, guest speaker Josh Erickson talked about different levels of engagement.
While the students learned about career opportunities, Mr. VanDeWalle and Ms. Hartman participated in professional development in the Agriculture Education Symposium. Sessions for the teachers included topics on: Supervised Agriculture Experiences Fall All Students, BlendEd Classrooms, Flipped Classrooms and Landscape and Horticulture. Mr. VanDeWalle also participated in and presented at the Beginning Teacher Meeting that afternoon.
You Drink & You Drive, You Lose
Details

Published on Monday, 26 August 2013 16:13
Written by thenebraskasigna
The Fillmore County Sheriff's Office (FCSO) began participating in the nationwide You Drink & You Drive You Lose crackdown on August 16. The campaign continues until September 2.
During this period, increased patrols will be made possible due to a Nebraska Office of Highway Safety (NOHS) grant. This grant will allow FCSO deputies to work extra time in order to increase the enforcement of traffic laws and specifically increase patrols for DUI enforcement.
The extra patrol time for FCSO deputies will be paid for by NOHS grant funds. With the goal of increasing DUI enforcement, the FCSO hopes to decrease the number of injury accidents which occur in the county. A no-tolerance stance on alcohol-related violations will be taken by FCSO deputies during this special enforcement period.
PSC Seeks Applications For 911 Wireless Advisory Board
Details

Published on Tuesday, 26 November 2013 16:50
Written by thenebraskasigna
The Nebraska Public Service Commission is accepting applications for two vacancies on the Nebraska Wireless E911 Advisory Board. Vacant positions include a municipal official or employee and a member of the public.
Advisory board members serve three-year terms and are reimbursed for expenses. Members meet quarterly with additional meetings held on an as needed basis.The function of the Advisory Board is to advise the Commission concerning implementation, development, administration, coordination, evaluation and maintenance of the Enhanced Wireless 911 Fund.
The advisory board has 11 members comprised of one sheriff; two county and municipal officials or employees each; one representative each from the wireless and local telecommunications industry; one manager of a 911 center; one member of the public; one Public Service Commissioner; and the Nebraska Chief Information Officer. Public Service Commissioner Jerry Vap of McCook currently serves as the Commissioner on the Board.
Persons interested in the vacancy should submit a letter of interest to P.O. Box 94927, Lincoln, Nebraska 68509-4927. Correspondence should be sent to Sue Vanicek by December 16. An application should also be submitted electronically at: http://www.governor.nebraska.gov/bc/board_comm.html
The Nebraska Wireless Enhanced 911 Fund is supported by a monthly 45-cent surcharge on each wireless telephone.
Tearing Down History to Make Way for Progress
Details

Published on Monday, 26 August 2013 15:15
Written by thenebraskasigna
By J. L. Schmidt, Statehouse Correspondent for The Nebraska Press Assoc.
Another Nebraska community has demolished an historic brick school building so it doesn't stand in the way of progress. Despite recent efforts to save the building and its twin across town, local officials said hallelujah when the dilapidated property was purchased from a stubborn owner after years of negotiating.
A section of the school that had the name carved in elegant terra cotta will be incorporated into the new neighborhood being created and will pay homage to the past, according to the mayor. That's a familiar bone thrown to preservationists who have failed in their attempts to convince those in power of the economic sense behind adaptive re-use that has proven, time and again, that renovation costs much less per square foot than demolition and building new.
It's also a way to cover up the fact that those same city fathers failed to address the deterioration early on by prohibiting or, at least, punishing those who did inappropriate things with the massive structures. In this case, the owner stored grain in part of the building at one point and that attracted countless vermin that exacerbated the deterioration process. Time and inattentiveness did the building in.
Here's a call to elected officials and citizen watchdogs alike to start paying attention to Nebraska's historic built environment and exploring ways to creatively re-use it at best. At the very least, how about deconstructing it instead of demolishing it. There is value in using old brick and wood and steel and glass. Recycling building materials. Saving the environment and energy.
Across the state, it's hats-off to the Wayne County Fair Board, which saved the 52-stall horse barn, which stood for four decades at State Fair Park in Lincoln. The structure was purchased a couple years ago when the University of Nebraska took over the state fairgrounds after the fair was moved to Grand Island. It was in place for the Wayne County Fair last month. The 40-foot-by-260-foot open-air facility was purchased to replace old wooden horse barns that were deteriorating. New life for an old structure. Total cost, not counting volunteer labor and in-kind donations, between $60,000 and $70,000.
What about that former state fairgrounds in Lincoln? Work progresses on the remodeling of the old 4-H Building and a new addition. Work also continues on the deconstruction of part of the Industrial Arts Building, which will have a new second floor addition but retain its iconic trapezoidal shape and elegant Palladian windows on the first floor. Note the new structures at the Grand Island State Fair campus feature brick facades with that same window style.
Saving the Industrial Arts Building was a rallying point for preservationists who rarely win in battles with major universities. A website, a Facebook group, a designation from the National Trust for Historic Preservation as one of the 11 most endangered buildings in 2011 and a sympathetic developer all helped save the structure. Architect's estimates at the time said renovation of the IAB would cost $90 to $125 per square foot. Demolition and building new would cost $175 to $250 per square foot. Makes economic sense.
New life will allow the IAB to stand for years into the future as a tribute to the elegant exposition style architecture that was the Nebraska State Fair. Imagine, incorporating history INTO progress.