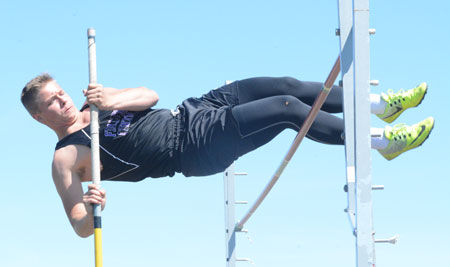 Limited by injuries, Fillmore Central limped into its annual track meet last week. The Panthers landed in last place in the team standings in both the boys (29) and girls (20) on Thursday, May 2, in Geneva. Malcolm got past Hastings St. Cecilia to win the girls portion of the FC Track Invite, while Centennial took the boys team championship.
The Panthers were unable to capture any event wins last week. Top finishes for FC were turned in by Connor Asche, third in the shot put with a toss of 43-feet, 8.5 inches; Garrett Nichols, second in the 1,600-meter run with a clocking of 4 minutes, 48.32 seconds; De Maciel, third in the 800-meter run in 2:05.65; and Erin Schmidt, third in the shot put with a heave of 39-4.
Additional medal earners for the Panthers were: girls 1,600-meter relay team, third; Conner Nun, pole vault, fourth; Parker Uldrich, pole vault, sixth; boys 1,600-meter relay, fifth; Claire Kimbrough, triple jump, sixth; Lauryn Monteforte, 1,600-meter run, sixth; Jordan Broman, 800-meter run, fourth; and Teneal Barbur, 3,200-meter run, fifth.
The Panthers travel to Sandy Creek this Thursday to take part in the loaded C-7 District Meet.