2019 FC Trap Conference Season Begins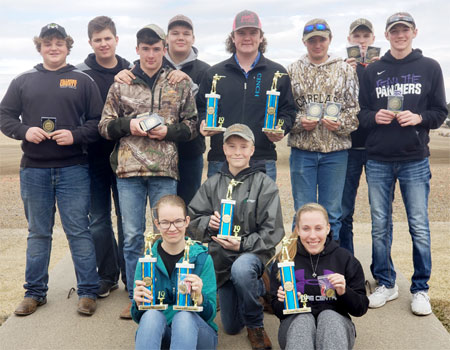 The weather turned out to be dryer than predicted for the Fillmore County Trap team as they began their conference season on March 23, at the Crooked Creek Gun Club near Aurora. Of the 161 total shooters, 29 were from the Fillmore County Trap Team. The FC team consisted of 22 senior high division shooters and seven junior high division shooters. Ron Schropfer and Chris Coash coach the local team.
In the Junior Division, Wyatt Rayburn earned recognition as Junior Male Runner-Up with a score of 45. At 16 yards, in the Senior Division Kyle Broman and Dylan Vodicka earned a spot in a shoot-off for High Senior Male by breaking 49 rocks. An impressive three additional boxes of shells were needed to name a victor. Lauryn Monteforte was named the High Senior Female by also crushing 49. Gunner Gewecke, Caleb Hendrickson, Kaleb Scheil, Carson Tatro and Dylan Vodicka hit 238 for High Senior Team.
Adding distance didn't stop Michelle Fessler from earning a spot in a shoot-off for Handicap Female Champion with an impressive break of 44 rocks from 22-23 yards. Austin Plock also hit 44 to earn the Handicap Male Champion at a distance of 24-25 yards. Kyle Broman, Austin Plock, Trenton Srajhans, Tucker Stutzman and Brock Tatro received both High Overall Team and High Handicap Team with 442 and 205 broken rocks respectively. Austin Plock continued his great day of shooting with hardware recognizing him as the High Overall Male Champion with 92 rocks. Kyle Broman found himself in another shoot-off for the Male Runner-Up title by breaking 90 rocks. High Overall Female Champion was Michelle Fessler with 90 rocks taken down. Michelle Fessler and Lauryn Monteforte's combined score of 173 earned them the title of Senior Ladies Team Champion.
High School team scores were: (16 yard score/handicap score/total):
Team 1: Kyle Broman 49/41/90, Austin Plock 48/44/92, Trenton Srajhans 48/40/88, Tucker Stutzman 47/38/85 and Brock Tatro 45/42/87.
Total Team Scores: 237/205/442.
Team 2: Gunner Gewecke 47/38/85, Caleb Hendrickson 48/27/75, Kaleb Scheil 47/35/82, Carson Tatro 47/40/87 and Dylan Vodicka 49/39/88.
Total Team Scores: 238/179/417
Team 3: Aiden Trowbridge 41/40/81, Jared Engle 44/41/85, Michelle Fessler 46/44/90, Conner Nun 44/40/84 and Riley Hiatt 47/28/75.
Total Team Scores: 222/193/415
Team 4: Lauryn Monteforte 49/34/83, Shane Fessler 45/37, 82, Thayne Kimbrough 43/28/71, Devin Kronhoffman 43/31/74 and Izayah Morris 45/34/79.
Total Team Scores: 225/164/389
Additional Senior Shooter: Kellen Wusk 34/40/74.
Junior high team scores were (50 rocks at 16 yards)
Team 1: Zachary Coash 36, Logan Johnson 19, Wyatt Rayburn 45, Treygan Srajhans 26 and Jasper Stutzman 37.
Additional Junior Shooters: Waylon Rayburn 35 and Jaeden Wilkins 37.