BDS Boys Score 18 Points In Omaha; Christensen State Runner-up In Shot Put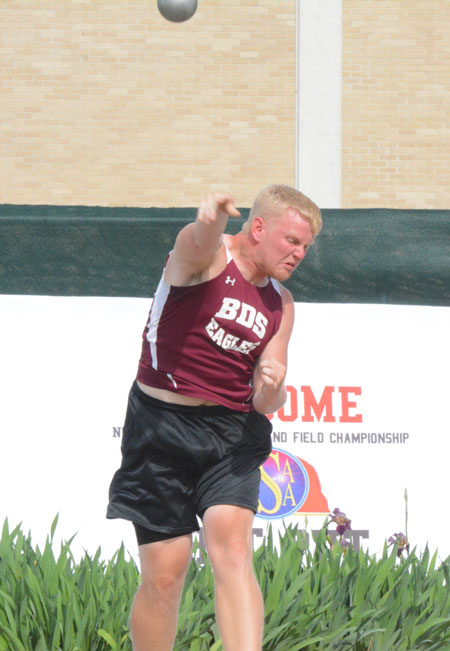 The three Bruning-Davenport/Shickley male athletes that qualified for Omaha combined to score 18 team points at the 2019 NSAA State Track & Field Championships. And, all the Eagle points came in field events.
BDS's John Christensen placed second in the Class D boys' shot put in Omaha. The Eagle senior uncorked a throw of 51-feet, 6.5-inches at Omaha Burke Stadium. Christensen also placed eighth in the discus on Saturday morning with a throw of 125-11. Teammate Nolan Weber was about a dozen feet better on May 18. The BDS junior threw the discus 137-3, which landed him in sixth position in a very talented field.
BDS sophomore Aaron Mick placed third in Class D boys' pole vault on Friday afternoon. Mick cleared 13-10 in Omaha for a new personal best. His effort was only good enough for third place (misses). The winner vaulted four inches more, 14-2. The Class D boys' field was stacked this year with 10 athletes vaulting over 13 feet in Omaha.
TaraLee Hudson represented the BDS girls at State and placed 10th in the Class D girls discus. The Eagle senior struggled in the extremely windy conditions on Friday with her first two preliminary throws ending up in the netting. Hudson did unleash a throw of 100-8 in Omaha.