BDS Competes At Turkey Creek Relays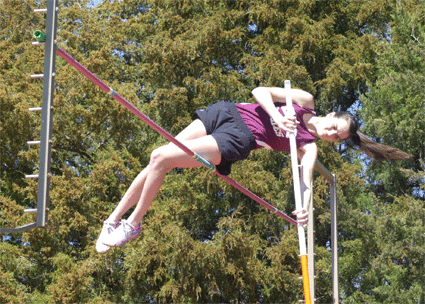 Last Tuesday, March 31, the Bruning-Davenport/Shickley track team traveled to Friend to participate in the 2015 Turkey Creek Relays. On a perfect day for a track meet with little wind and temperatures in the 70's, both teams did well. The Eagle boys finished in third place in the team standings in Friend and the girls ended up tied for fourth.
The boys had several gold medal performances as everything was scored in pairs in the field events to follow the theme of a relay meet. The team of Blake Stengel and Thomas Mick took first place in the pole vault for the only field event gold, while the hurdle relay group of Grant Norder, Sam Christensen, Ben Elznic and Hunter Krehnke were also able to finish first. The first of two more golds were gained when Grant was joined on the 800-meter relay by Nate Hendrickson, Cody Garland and Kendall Dixon. Cody and Kendall teamed up with Kale Kleinschmidt and T.J. Krupicka to win the 1,600-meter medley.
Other relay finishes for the boys were Colton Lowery and Holden Stengel fourth in the discus, Charlie Martin, Karson Dickson, Brett Holtzen and Chris Rohr fourth in the 3,200-meter relay. Brett and Karson also teamed up with Josh Hinrichs and Kale Smith to finish fourth in the Distance Medley. The team of Noel Gines, Jayden Otto, Kale Kleinschmidt and T.J. Krupicka took fifth in the 3,200-meter medley, as did the 400 relay team of Thomas Mick, Jacob Swartzendruber, Taylor and Tyler Anderson.
Karson teamed with Chris Lichti to finish fifth in the pole vault, while Kale Smith and Christensen took fifth in the high jump. Taylor and Brandon Anderson were sixth in the triple jump, as was the 1,600 relay team made up of Hunter, Jayden, Chris and Noel.
The girls' lone gold came in the pole vault as Catherine Mick and Tristen Mosier teamed up for a first-place finish. There were a pair of silvers though, as Tristen and Catherine were joined by McKenna Schardt and Megan Grote for a second-place finish in the hurdle relay and then Catherine and Tristen were joined by Mashaya Dierking and Carley Elznic in the 800-meter relay for another second place run.
Other places for the girls were third in the high jump by Brice Ardissono and Megan, third as well in the pole vault when Courtney Kamler and Nicole Swartzendruber joined up. Cortney was joined by Lexi Kadel, Haley Pena Lopez, and Johanna Kluck to take fourth in the 3,200-meter medley.
Mckenna, Nicole, and Mashaya were joined by Faith Stengel to take fifth in the 400-meter relay, and Catherine, Tristen, Brice and Nicole were fifth in the 1,600-meter relay as well. The lone sixth place finish went to the 3,200-meter relay team of Morgan Lowery, Kim Ardissono, Haley and Brice.