BDS, E-M Compete In Henderson Henderson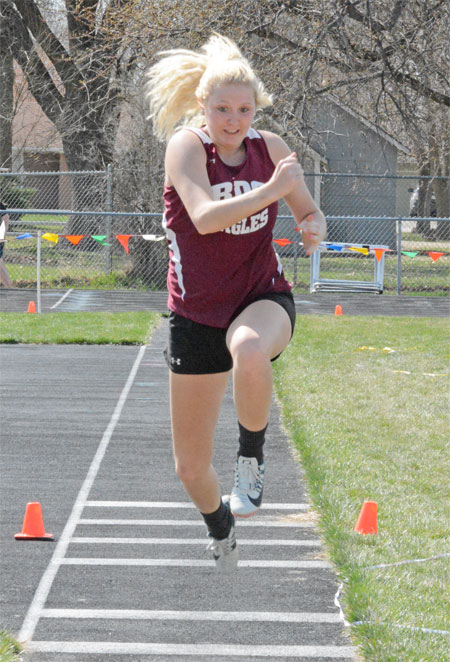 The Exeter-Milligan girls finished in fourth place in the team standings at the 2019 Heartland Invitational. The Timberwolf girls amassed 62 points. The Bruning-Davenport/Shickley girls scored seven points at the 10-team invite on Tuesday, April 9.
The BDS boys scored 55 points in Henderson and placed fifth. The Timberwolf boys scored 39 points to land in seventh place at the invite. St. Cecilia rolled to the girls title with 116 points. The Sutton boys got past the Blue hawks, 125-81, to win the boys' title. The Fillies were second in the team standings followed by McCool Junction. Blue Hill was third for the boys.
Eagle Nolan Weber led a one, two and four finish in the boys discus for BDS. Weber was first at 137-feet, 7-inches; while John Christensen was second, 129-6, and Kyle Ardissono was fourth, 124-5. Christensen took gold in the boys shot put, 48-4. Eagle teammate Jacob Schoenholz took fourth with a heave of 41-11.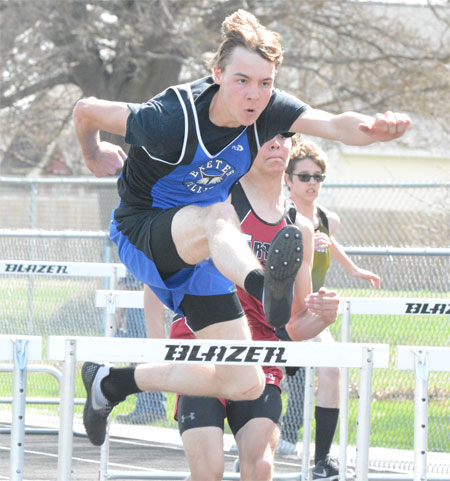 Timberwolf Jaiden Papik sped to a first-finish in the 800-meter run with a clocking of 2 minutes, 35.55 seconds. Teammate Cameran Jansky sailed to third in the 800, 2:41.43, and sister Kate Jansky was fifth, 2:46.78. E-M speedster Katherine White zipped to gold in the 100-meter hurdles with a time of 16.17 seconds. White earned three more medals in Henderson. The Timberwolf senior was third in the 100-meter dash, 13.55 seconds; fourth in the 200-meter dash, 28.26; and a leg in the runner-up 1,600-meter relay, 4:34.52, with Papik, K. Jansky and C. Jansky.
Eagle Aaron Mick won the boys pole vault after clearing 13-6. Mick also placed fifth in the 200-meter dash, 24.96; and fifth in the 100-meter dash, 11.87 seconds. Timberwolf speedster Casey Jindra had several solid finishes in Henderson. Jindra took second in the 100-meter dash behind Mustang sprinter Kyle Baumert in 11.73 seconds. Jindra was fourth in the 200-meter dash, 24.84. The E-M sophomore also placed second in the long jump, 18-5.
Additional E-M and BDS girl medal earners were: Papik, E-M, fourth, 1,600-meter run; Cammie Harrison, E-M, sixth, 1,600-meter run; BDS 400-meter relay, Kenzie Bohling, Taryn Fiala, Macy Kamler and Taylor Sliva, sixth; E-M 3,200-meter relay, Papik, K. Jansky, C. Jansky and Harrison, second; Harrison, E-M, fourth, high jump; Mariah Sliva, BDS, fifth, high jump; Sliva, BDS, fourth, pole vault, Maddie Luzum, E-M, sixth, Pole vault; and Kamler, BDS, sixth, discus.
Additional BDS and E-M point earners on April 7 included: Kamron Dickson, BDS, third, 400-meter dash; Spencer Pribyl, E-M, 800-meter run, sixth; Peytan Brandt, E-M, second, 110-meter hurdles, 16.89 seconds: E-M 1,600-meter relay, fourth, Jindra, Jackson Beethe, Clint Oldehoeft and Pribyl; Dominic Quinones, BDS, long jump, sixth; and Pribyl, discus, 124-4, third.