BDS Falls To Friend In District Final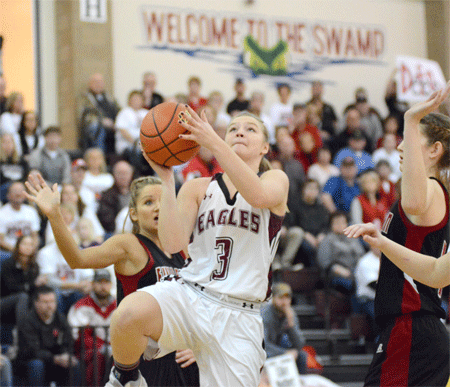 The Bruning-Davenport/ Shickley Eagles took on Friend in the D1-1 District Final at Centennial High School on Friday, February 27. Battle-tested Friend jumped out to a 11-2 lead before the Eagles cut the lead to 13-9 by the end of the first quarter. The second period saw both teams being able to score in double digits. Friend (21-5) took a 29-26 advantage into halftime.
"We felt really good with where we were at in the game," BDS head coach Shana Gerberding said. "Only a couple small adjustments on defense were made at half time.
The third quarter saw both teams exchange baskets and Friend held on to a three-point lead going into the fourth quarter, but the game's momentum was definitely changing. Upset-minded BDS took a 39-37 point lead with five minutes to play in the fourth quarter.
After some helter-skelter play and an off-again, on-again effective Bulldog press, the Eagles found themselves down by six points later on in the fourth quarter.
"The girls never gave up and found a way to get back in the game," Gerberding said.
With the Eagles down by just a basket, Jaycie Hoins made a great move to get the inside position for the rebound off Megan Grote's missed free throw. But, an out-of-position official saw it differently and called a foul on the speedy Hoins which sent Friend to the line for two free throws. Friend knocked down both free throws, which put them up by four points with 23 seconds left. The Eagles took the defending Class D-1 State Champions to the limit and kept them under their 60-point scoring average in the 49-45 Friend win.
"I'm so proud of the way they battled for four quarters in this game never giving up," Gerberding said. "The girls would find ways to make plays and keep themselves in the game and taking the lead in the game. I thought we had the game when Jaycie got Megan's offensive rebound but things didn't end up the way we wanted. We had several opportunities throughout the game to take control but Friend is a good team and kept us just far enough away to pull out with the victory."
Freshman Megan Grote led the Eagles in scoring with 12 points, while teammates McKenna Schardt and Jaycie Hoins each had 10 points. Along with her 10 points, Schardt also pulled down 12 rebounds and dished out four assists in the heartbreaker. Hoins also grabbed nine rebounds on the night.
Additional scoring for BDS came from Catherine Mick with six and Tristen Mosier with four. With being hounded all night by the Bulldog press, Lexi Kadel added three.
With the loss, the Eagles ended the season at 16-7.
"This group of girls played hard for four quarters and left it all on the court…that's all you can ask of your team in games like this," Gerberding said. "It was a great game to be a part of even though we came up short of earning a berth to the state tournament. I want to thank each player on this team, student managers, coaches for putting in all the time and dedication since November. Also, I would like to thank all of the fans who came out to support the team."