BDS Girls Enter Subs At 18-4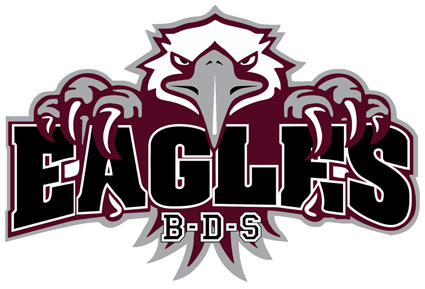 On Tuesday, February 5, the Bruning-Davenport/Shickley Eagles traveled to play the Meridian Lady Mustangs. BDS senior Jadyn Kleinschmidt would knock down a bucket to give the Eagles the early lead at 2-0. The Mustangs would respond and the Eagles found themselves trailing 14-13 after one quarter of play. The Eagles would come back to take a 26-24 lead into halftime.
The third quarter had several lead changes before the Eagles were able to take a 37-35 lead at the end of the third. The Eagles would never surrender the lead in the fourth quarter. The Mustangs were able to pull within one point at 46-45 but the Eagles scored four straight to take a 50-45 lead. The Eagles earned their 17th victory of the season with a 56-48 win over the Mustangs.
Leading the Eagles were Macy Kamler and Regan Alfs each with 18 points followed by Kleinschmidt's 10 points. Alfs pulled down 21 rebounds in the contest followed by Kamler's 10. Kamler also dished out four assists.
The Lady Eagles traveled to Polk in the last regular season game to take on the High Plains Lady Storm. The Eagles were able to get started quickly against the Storm and take a 16-4 lead after one quarter. Regan Alfs scored 10 of her 16 points in the first period.
The Eagles defense held the Storm scoreless in the second quarter and built a 35-4 lead going into the break. With the 47-14 win, the Eagles earned the Crossroads Conference regular season championship. Along with Alfs' 16 points, Macy Kamler scored 16 points as well for the 18-4 Eagles.
The Eagles (No. 5 in wildcard points in Class D-2) begin D2-2 Sub-district play on Wednesday, February 13 (pushed back because of bad weather) against the winner of Osceola/Nebraska Lutheran at 6 p.m. at Wilber-Clatonia High School. The sub-district final will tip-off at 7 p.m., this Thursday with BDS likely matching up with CRC foe Exeter-Milligan.