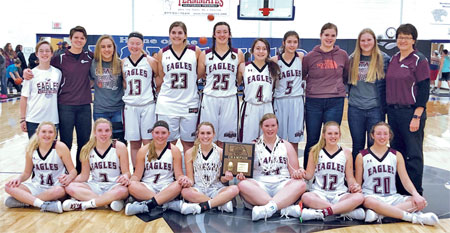 The Bruning-Davenport/Shickley Eagles traveled to Hershey High School on Friday afternoon to play the Sioux County Warriors in the D2-3 District Final for a chance to play in the State Tournament.
The first half of action saw several lead changes, with neither team able to sustain a lead. By the end of the second quarter, the Eagles were able to take a five point lead at 27-22 going in to half time. The Warriors would tie the game in the third quarter but could never pull ahead.
Behind a Macy Kamler old-fashioned three-point play, the Eagles were again up by five, 39-34 going in to the final quarter of play. The Eagles caught fire behind Regan Alfs' game-high 27 points and went on a 15-0 run to start the fourth quarter and with tough defensive pressure kept the Warriors from getting back in to the game.
"We switched defenses and the girls were able to take control of the game," BDS head coach Shana Gerberding said. "The stat lines don't show just how well everyone played on the defense side of the ball."
The Eagles won the game 60-47 and earned a trip back to the NSAA Girls State Basketball Tournament. Alfs led the Eagles with 27 points with 15 of those coming from beyond the 3-point arc, Kamler added 18 of her 20 points in the second half, Kamler also grabbed 10 rebounds. Jadyn Kleinschmidt chipped in seven points, five assists and three steals in the game.
Alfs is leading BDS in scoring heading into State averaging 19.3 points and 11.4 rebounds per game. Kamler is averaging 9.6 points per contest and 7.2 boards. Kleinschmidt is averaging 9.2 points per game and 3.6 rebounds. Kamler has 91 assists on the season, while Kleinschmidt has 72. The Eagles come into Lincoln the winners of 12 straight. BDS has lost to only one Class D-2 school this season, a setback to 21-5 five-seeded Sterling on January 7.
With the win, the Lady Eagles improve to 21-4 on the season and will begin the NSAA Class D-2 State Tournament as the No. 3 seed and will face 21-3 Mullen at 8:45 p.m., at Lincoln North Star High School on Thursday, February 28. The Broncos have won four straight and are led by 6-foot post Samantha Moore, who is averaging 16 points per game. They have nine other players averaging between one and five points per contest. Mullen, who was last at State in 2015, has not lost to a Class D-2 team this season with its three losses coming to 11-9, Class C-2 Gordon-Rushville; 24-1 D-1 top-seed North Platte St. Pats and 19-5 Class C-2 South Loup.