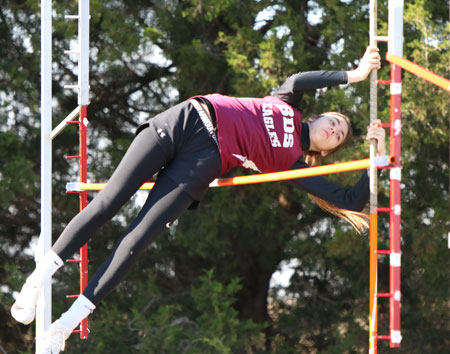 Bruning-Davenport/Shickley qualified one girl and three boy athletes to the 2019 NSAA State Track & Field Championships. And, the Eagles all qualified in field events.
The BDS boys went one-two in the discus on Friday. Nolan Weber won the event with a toss of 147-feet, 6-inches in Sandy Creek. Teammate John Christensen was next with a toss of 141-3. The boys Class D discus begins at 8:30 a.m., this Saturday morning at Omaha Burke Stadium. Christensen also took second in the shot put with a heave of 50-7. The Class D boys shot put will start at 3:30 p.m., this Friday in Omaha.
Eagle sophomore Aaron Mick placed first in the pole vault after clearing 13-9 in a talented field in Sandy Creek. Mick enters the State Meet with the best District-qualifying mark and will hope to keep the Mick family streak alive. The Class D boys pole vault starts at 3:30 p.m., this Friday. TaraLee Hudson will also be competing in Omaha after winning the discus in Sandy Creek with a throw of 113-5. Hudson's District-winning toss is the fourth best in the State. The girls Class D discus starts at 5:30 p.m., this Friday.
The BDS boys scored 57 points at the D-6 District to land in fourth place. The Eagle girls notched 22 points to place 10th at the 12-team meet in Sandy Creek.
Mick placed sixth in the 200-meter dash, 24.42 seconds on Friday. Kameron Dickson took fourth in the 400-meter dash in 54.45 seconds and narrowly missed State. The BDS boys 400-meter relay squad of Dickson, Christensen, Logan Schroeder and Mick placed fourth in 47.56 seconds. Eagle Taylor Sliva placed sixth in the 100-meter hurdles in a time of 18.1 seconds. The BDS girls 400-meter relay team of Maria Sliva, Taryn Fiala, Kenzie Bohling and T. Sliva placed sixth in the 56.04 seconds.