BDS Stops Deshler, Heartland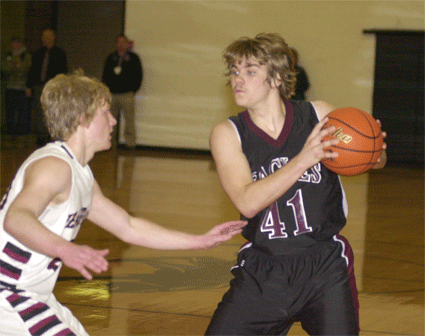 Last Tuesday, Bruning-Davenport/Shickley opened D1-2 Sub-district play in Geneva. Playing in one of the state's tougher Class D-1 sub- districts, the Eagles faced regular season opponent, and TVC champion, Deshler in round one. BDS escaped from the December regular-season game with an overtime win and this game went down to the wire as well.
Early on, the game was back-and-forth and the first quarter ended with BDS leading 11-10. As the second period got underway, the Eagles went on a run outscoring the Dragons 19-8 and really clamping down on defense. BDS guard Cody Garland scored eight first-half points, while Riley Tegtmeier and Grant Norder each added five to help BDS build its lead and enter the break up 30-18.
The second half in Geneva saw Deshler make a push and cut the Eagle lead down to two points entering the fourth quarter, but Riley Tegtmeier, Chris Rohr and Grant Norder combined to go 10-for-12 from the free throw line to seal the victory and allow the Eagles to move on 49-43.
"I thought defensively we really did a nice job on their big post," Eagle head coach Fred Kluck said. "He generally scores pretty well and gets involved in the rebounding on the offensive boards, but Chris Rohr and Ben Elznic really did a nice job of keeping him in check tonight, holding him to just four points."
Scoring for BDS were Grant Norder with 14, Riley Tegtmeier with 12, Cody Garland 8, Jayden Otto and Ben Elznic with 4 each, Chris Rohr had 3 and Kale Kleinschmidt and Kamron Ficken each finished with 2. Riley had four assists and Ben added six rebounds.
On Thursday night, 22-3 BDS faced off with the 21-2 and top-seeded Heartland Huskies in the D1-2 Sub district finals. The teams were meeting for the fourth year in a row in sub-district play. The Huskies came in riding an 11-game winning streak, which included a Southern Nebraska Conference (SNC) Tournament championship, while the Eagles entered as winners of six of their last seven games including a victory over High Plains, which made them the Crossroads conference (CRC) regular season champion.
The two squads entered the standing-room only contest sitting No. 1 and No. 2 in wildcard points in Class D-1.
Both teams played tentatively early as a lot was on the line with each hoping to advance to the district final and move one step closer to an automatic State Tournament berth. The first period ended with the Eagles on top 8-4.
"We really felt like we didn't want to see Heartland running up and down the court," Kluck said. "They want to push and press and keep things moving so we tried to keep the tempo a little more in our favor and it seemed to work pretty well early on. Once again, Cody Garland got things going early hitting two first-quarter 3-point shots to help BDS take the early lead.
The second stanza saw Grant Norder get things going as he put in six of his team- high 13 points and helped the Eagles maintain their four-point advantage entering the half up 22 to 18. One thing that was really noticeable was that the Husky's two leading scorers had been held to just a total of one point.
"Sam Christensen and Cody Garland really did a super job, along with Ben Elznic and Kale Kleinschmidt off the bench, of limiting the easy touches for those two players," Kluck said. "We just battled and moved and played hard all night long, and I think it kind of wore them down."
The third period saw more back-and -forth play and ended with the Eagles still holding a slim 32-29 lead.
As the fourth quarter got underway though, the senior-laden Huskies put together a run and jumped to a 2-point advantage. But, big offensive rebounds and put backs by Sam Christensen and Grant Norder along with some timely free-throw shooting allowed the Eagles to escape with a four point, 45-41 victory and move on to the district finals to face the same team that ended their season last year—Nebraska City Lourdes Central Catholic.
"I'm certain that one thing we won't have to mention is that Lourdes ended our season a year ago," Kluck said. "We know they are a good team, and having seen them once already this season should help us have some confidence going into the district title game." Kluck said referring to the Eagles' MUDECAS Tournament victory over Lourdes CC earlier in the season.
Scoring for BDS in the big win over Heartland were Grant Norder with 13 points, while Cody Garland added 9. Riley Tegtmeier contributed 8 and Chris Rohr scored 5. Kale Kleinschmidt and Ben Elznic each added 3 with Sam Christensen scoring 2 and Jayden Otto and Kamron Ficken finished with one point each.
Norder led the BDS rebounding effort with nine, while Kleinschmidt had three steals and Rohr added three assists for the Eagles.
BDS squared off with 20-6 Lourdes Central Catholic on Tuesday, March 3, in the D1-1 District Final played at Doane College in Crete. The 2015 NSAA Boys State Basketball Tournament runs Thursday, March 12, through Saturday, March 14.