BDS Wins D2-2 Sub-district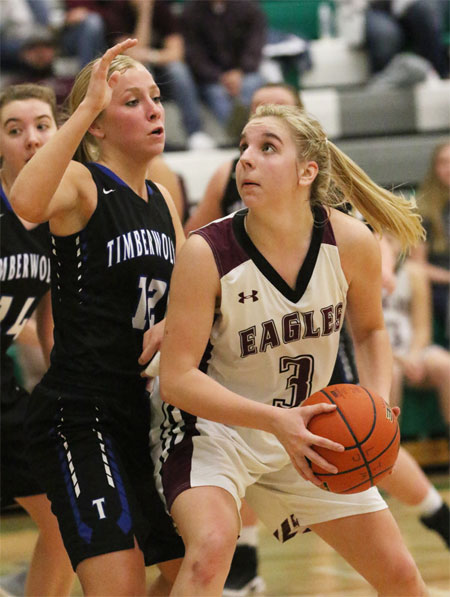 Bruning-Davenport/Shickley began D2-2 Sub-district play versus the Nebraska Lutheran Lady Knights at Wilber-Clatonia High School on Wednesday, February 13. The Lady Nights fought hard to keep the game close in the first half. It wasn't until the second quarter that the Lady Eagles were able to take full control of the game and led 33-19 at halftime.
The top-seeded Eagles came out strong in the third quarter and put up 22 points compared to just eight by the Knights. The Knights were never able to get back in to the game and the Eagles won 65-35. Leading the Eagles in victory were Regan Alfs with 19 points and 18 rebounds followed by Macy Kamler's 12 points and 10 rebounds. Jadyn Kleinschmidt and Raegan Fiala each chipped in 10 points each.
With the win over Nebraska Lutheran, the Eagles now faced the Exeter-Milligan Timberwolves on Thursday, February 14, in the D2-2 Sub-district final. The Eagles jumped out early on the Timberwolves and built a 16-4 lead at the end of one quarter. Seniors Jadyn Kleinschmidt and TaraLee Hudson each contributed five points each in the first quarter. The Timberwolves were able to put up 11 in the second quarter but the Eagles held a 28-15 advantage going in to half time.
The Eagles started off hot in the third quarter outscoring the Timberwolves 14-6 behind Kleinschmidt's eight points. BDS won the sub-district final 46-31 over Exeter-Milligan to improve to 20-4 on the season. Junior post Regan Alfs scored 13 points and pulled down 17 rebounds. Kleinschmidt added 13 points followed by Macy Kamler's 10 points and five assists.
The Eagles will travel to Hershey to take on the Sioux County Warriors in the District Final game on Friday, February 22, to earn a trip to the State Tournament. Tip-off is slated for 6 p.m. Sioux County comes into the match-up with a record of 18-5 and had won nine straight games before a 54-38 loss to 16-7 Cody-Kilgore in its sub-district final. C-K has beaten the Warriors twice this season—the only two losses Sioux County has suffered to Class D-2 opposition. That said, with their 18 wins, the Warriors have only one victory over an opponent with a winning record—a win over Class D-1 Leyton (13-9).