Bids accepted for crushed rock, diesel fuel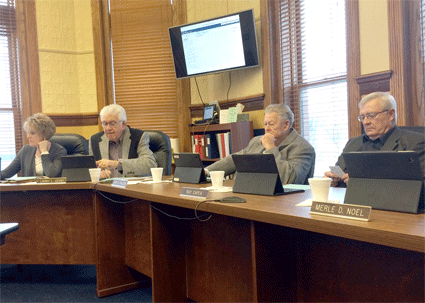 Fillmore County supervisors (L-R) Larry Cerny, Jerry Galusha and Ray Capek use their ipads to electronically vote at a recent Fillmore County Board meeting. Under the guidance of Fillmore County Clerk Amy Nelson, the local county board meetings have become paperless and the board uses new software to facilitate its meetings.
Two letting events took place during the Fillmore County Board of Supervisor's last regularly-scheduled meeting in February. The county board fielded bids for crushed rock to be used on upcoming county road projects and for diesel fuel to be used by the county roads department.
The February 24 meeting began with local Edward Jones representative Vern Kendell telling the supervisors about his company's interest in providing bond services for the county. Kendell said Edward Jones has recently worked on two bond issues for Seward County and 54.5 percent of the bonds were sold to Nebraska investors—a number much higher than what other bond firms feature, Kendell said.
Next, Fillmore County Highway Superintendent Pat Halbur talked with the county board about the need to hire another roads department worker after a worker took another job based on better family insurance being offered elsewhere. Fillmore County pays the entire insurance cost for each company employee. Fillmore County Clerk Amy Nelson said that adding a family on the county's insurance plan can cost an employee around $900 per month.
The supervisors discussed the possibility of paying a percentage of an employee's family insurance in the future. No action was taken.
Four trucking firms bid on crushed rock deliveries to different sites inside the county. Bid amounts ranged between $23.75 a ton to $29.95 a ton. The supervisors voted to award bids for the three locations to DPL Enterprises, d/b/a Nichols Construction, using type 1 rock.
Three companies submitted bids for diesel fuel delivery inside the county. Bid prices ranged from $2.25 per gallon to $2.389 per gallon based on the delivery location. The supervisors awarded deliver to certain locations to all three local companies who submitted bids.
Other February 24 meeting notes included:
• Fillmore County Board Chairman Larry Cerny noted that a new electrical line and plumbing lines are being put in at the Fillmore County Office Building East. Once this work is completed, Cerny said carpeting needs to be put down and then the Fillmore County Extension Office staff can begin making the transition to the location around the first part of April.
"I think everything is pretty much ready to roll over there," Cerny said. "They will be able to start moving over there soon."
• The supervisors also discussed the possible schedule for demolition of the parts of the former Fillmore County Hospital that will not be used for county offices. The demolition work could begin in June or July. Fillmore County Supervisor Susan Johnson said she would like to see county residents have one more chance to come up with potential uses for the old hospital.
"I would like to give them one more time, one last opportunity to come talk to us if they don't want it demolished," Johnson said. "What can we do with it?"
The supervisors were in general consensus to set a final date for residents to make suggestions.
• Dan Risseeuw was appointed to the Fillmore County Planning Commission and Allen Huber was appointed to the Grafton Township Board.