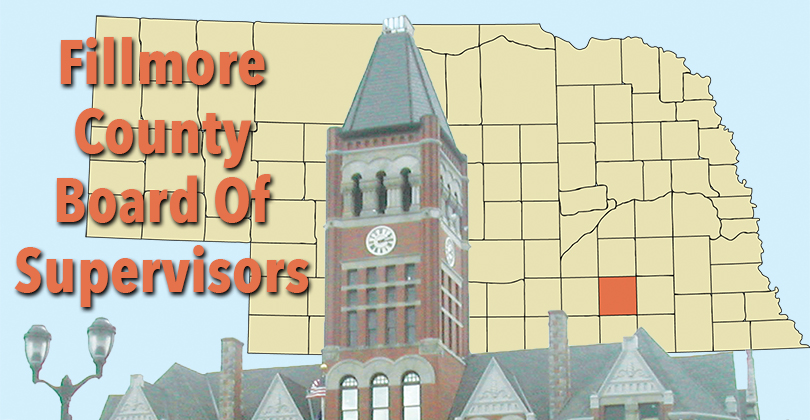 By GREG SCELLIN
Signal Editor
The Fillmore County Board of Supervisors worked through a light agenda at the board's first regularly-scheduled meeting this month.
Among the items discussed on the July 9 agenda were:
• During Board of Equalization time, Fillmore County Assessor Lynn Mussman reported that her office has been busy fielding property valuation questions. She also mentioned the questions were coming on residential properties rather than the usual ag-land ones.
"We talked to a couple hundred people," Mussman said. "I know there were some unhappy people out there."
• Assistant Fillmore County Highway Superintendent Doug Motis appeared at the meeting to address road issues.
• Supervisor Larry Cerny told the board he recently visited the Fairview Cemetery, which was recently named an abandoned pioneer cemetery by petition. Cerny said a group of volunteers were working on cleaning up the property.
"I was shocked to see how nice it looks out there," he said. "They've done a fantastic job there."
The board will look into whether the cemetery needs its new designation or not.
• The Masonry Construction, Inc., bid for tuck-pointing work on the Fillmore County Courthouse will increase. Company workers are expected to begin work on the building on August 1 and have suggested some needed change orders. The initial bid was $204,426. The project cost will be more like $275,000.
• Supervisors Mark Lightwine and Wade Sluka reviewed conditions in the Fillmore County Jail area.
• The box culvert project on County Road 8 between County Road Q and County Road R was ready to be poured.
• The district court bailiff's budget request is $12,350.72.
• Fillmore County Development Corporation (FCDC) board members Marcus Ruhl, Susan Lynch, Bart Brinkman, Cindy Myers, Kory Kahlandt and Charlie Trauger appeared at the meeting to talk about different options for filling the FCDC director position. Kelly Gewecke with the Nebraska Department of Economic Development also attended the July 9 meeting.