Brandt, Luzum Win Events At Meridian Invite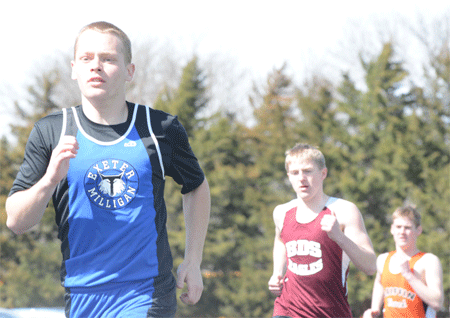 The Exeter-Milligan boys landed in fourth place in the team standings at the 2016 Meridian Track Invite, while the Timberwolf girls finished in seventh position.
Sterling was tops on the boys' side with 99 points followed by McCool Junction with 94. Diller-Odell scored 68 points and E-M was next with 66.5. Giltner was first in the girls' race with 117 points. Hampton was next with the host Bulldogs taking third. The E-M girls scored 35 points on April 6.
Timberwolf Trystan Brandt finished sixth in the 200-meter dash in Friend. Brandt was also second in the long jump (19-feet, 3.25 inches) and first in the triple jump with a winning leap of 40-7.50. Jack Dinneen took sixth place in the 1,600-meter run in Friend. Mitchell Manning placed fifth in the 3,200-meter run and teammate Spencer Pribyl was right behind for sixth.
E-M's Trevor Luzum won the high jump last Wednesday with a winning effort of 5-10. Luzum was also third in the 110-meter hurdles (17 seconds) and fourth in the 300-meter hurdles. The Timberwolf boys 400-meter relay squad of Colton Bossaller, Sam Zeleny, Eric Olsen and Brandt placed second in 48.40 seconds. The Timberwolf boys 1,600-meter relay team of Zeleny, Giovanni Tadini, Patrick Murphy and Olsen placed fifth in Friend (4:03.20). The E-M 3,200-meter relay squad of Bossaller, Dinneen, Manning and Zeleny took third in the event on April 3 in 9:21.60.
Murphy cleared 5-6 to place fifth in the high jump. Dinneen was third in the pole vault (11-0).
Timberwolf Katherine White zipped to a third-place finish in the 200-meter dash in Friend. The E-M freshman was a narrow second in the long jump with a leap of 15-6. White also took fourth in the triple jump (32-9.75) and fourth in the 100-meter hurdles (16.70 seconds).
E-M's Kate Jansky placed second in the 3,200-meter run in 13:42.10. The Timberwolf girls 1,600-meter relay squad of Hannah Beethe, Samantha Horne, Josie Kresak and Jansky placed fifth in the event with a clocking of 4:58.30. Beethe placed fifth in the high jump clearing 4-6.