Cargill Donates To Cattlemen's Ball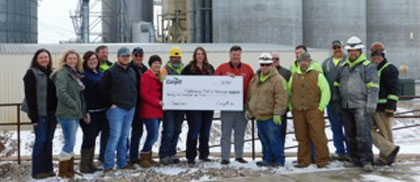 Cargill in Carleton recently donated $25,000 to the Cattlemen's Ball of Nebraska.
Cargill in Carleton and the Northwest Region of the Cargill Cares Council organization is proud to support the 2018 Cattlemen's Ball of Nebraska.
The Cargill Cares Council is an employee-led group that implements strategic community engagement activities on behalf of their locations to ensure that Cargill is investing its financial and human resources in their communities.
The Cargill Cares group focuses on food security, nutrition, sustainability, and enriching local communities. This nine person committee helps to allocate charitable funds to the entire state of Nebraska, part of Iowa, South Dakota, and Minnesota.