Church Celebrates New Addition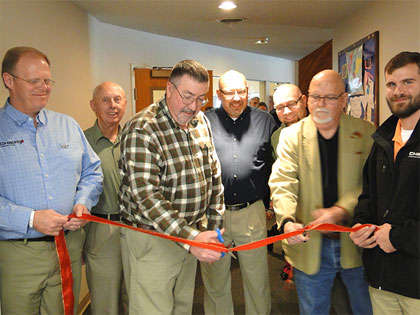 By Sue Wilkins, Signal Staff
The Geneva Evangelical Free Church hosted an open house recently to celebrate their newly expanded church building. The addition includes several new classrooms, offices for church staff, a brand new kitchen and a large multi-purpose room that can host anything from a full court press to a more serious affair, such as a funeral luncheon or wedding reception. The community was invited to celebrate the much needed addition with a ribbon cutting ceremony and light refreshments while guests toured the new facility.
The original brick church was constructed in the 70's and although a new sanctuary has been built since then, the church desperately needed more space, particularly classrooms. One Sunday School teacher, Shirley Rytych, has been faithfully teaching kids for decades at the church in less than ideal circumstances. She remembers years ago when she taught her Sunday School class in the utility closet. Somehow, that didn't deter her as just last year, Shirley was still teaching fifth and sixth graders in a windowless room in the basement where – though Shirley insisted she didn't mind – sound echoed so badly off the concrete walls that you could hear yourself talk.
Of course, the new addition won't just be appreciated by the Sunday School teachers. The staff have also been waiting a long time for the addition as the church offices had been located in a house several blocks away from the church. When the church administrator, Kari Gangstad, was told they planned to keep the offices there indefinitely, she said, "My head exploded." Now, eleven years later, they have finally moved into their new offices. Evidently, the move came not a moment too soon, as three days after they moved out, the furnace gave up. Pastor Jeff Jensen said, "All the things you don't want God to teach you, like patience, happened in that house."
It was not doubt or dissension that contributed to the long delay, "Everybody knew we needed build," said Pastor Jason Briggs. Instead, the delay came from a desire to be financially responsible, and with that, a determination that the church would not to take on more debt than they could pay off within a reasonable amount of time. For that, they would have to wait.
Briggs said that "At a board meeting in 2015, after years of waiting and planning, the church chairman at the time said, "We're not ready, the funds are not there." It was probably going to be another year…It created some tension within the sanctuary that night…some people felt like we weren't really going to have the money to do this." Despite discouragement, they set a deadline for when they needed the funds and waited.
Briggs went on to say, "We have a tendency to joke around and say that God's a procrastinator." But as it turned out, said Briggs, " it was interesting that – right up to the last minute – the money came…and we actually had more than we needed. I think the joke is that obviously, God did not procrastinate, but it happened in such a way that God showed that he was in this."
Although it was a long wait, Jensen said that by the time they broke ground they had well beyond their goal in the bank. Now, said Jensen, "We're going to have this thing paid off ahead of schedule…in five years or less."
Not long ago, Pastor Jensen visited Daryl and Jeanene Walling, the couple that were brave enough to accept what little they had been offered to pastor the church when it first started in 1973. Then, the church was only a small bible study comprised of a few faithful members, many of them young couples with small children. Together, they had scraped together what they could. One early church member, Shirley Rytych said, "It wasn't much."
But it wasn't meager earnings and hardship that the Wallings and Pastor Jensen spoke about that day. Instead, Pastor Walling spoke of the faithfulness of those that had gone before him, people like Edna Walcott, Eileen Shaner and Mike and Janet Wilkins; comparing their work to a firm foundation that upholds the work that continues now.
It seems as if that foundation holds as, while he was there, Walling had told Pastor Jensen, "All we did was ask, "What should we be doing?" and then we tried to be faithful with what God put in front of us."
"That's what we're still doing," Jensen said, "we're just being faithful with what God has put in front of us." As he spoke with the Wallings, he was able to tell them that the church that they helped to foster is, "not only lasting, it's growing."
Many of those in the church are excited about the new addition, and not just because they don't have to brave an icy wind every time they want to go from their office to the sanctuary. Jensen said, "Anytime someone builds something in town, its says, "We're alive." The community is not dying away. Hopefully that's inspiring to people."
And the church isn't finished yet, said Jensen, "This is not the end. There's another addition coming." Whenever that next phase comes, the church has shown that it can wait, embracing a long tradition of folks who have stayed faithful to what is in front of them.