County reorganization meetings take place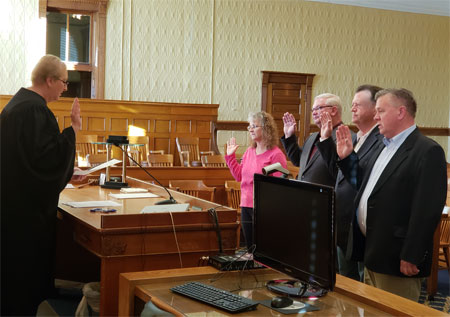 By GREG SCELLIN
Signal Editor
The Fillmore County Board of Equalization and the Fillmore County Board of Supervisors conducted their Reorganization Meetings on Thursday, January 3. Before the 9:30 a.m., meeting, Fillmore County Court Clerk Magistrate Cindy Carrigan administered the Oath of Office to all the newly-elected county officials first and then newly-re-elected county officials upstairs in the court room of the Fillmore County Courthouse in Geneva.
Attending their first county board meetings in their official capacities on January 3 were county supervisors Kenny Harre (District 1), Ralph Graham (District 3) and Mark Lightwine (District 5). Fillmore County Clerk Amy Nelson began the Reorganization Meetings last week by asking for nominations for chairman. Fillmore County Board Chairman Jeff Neiman was re-elected to serve as chairman and Vice Chairman Merle Noel was re-elected to serve as vice chairman for another year. Both men were the only nominees.
The supervisors then went through a long list of annual appointments and other official business. The supervisors passed motions again to require all officials to seek county board approval for purchases over $2,500 and to have Fillmore County Highway Superintendent Pat Halbur contact supervisors when county road work is planned in their districts.
The Public Health Board will be Fillmore County Attorney Jill Cunningham, Fillmore County Sheriff Bill Burgess, Fillmore County Clerk Amy Nelson, mortician Shaun Farmer, Fillmore County Board Chairman Jeff Neiman and the current chief of staff of the Fillmore County Hospital (FCH). The FCH chief of staff is also the county physician.
Appointments to various boards included: Region V—Harre, Graham; FCH Governing Board (non-voting)—Neiman; Fillmore County Development Corporation (meetings)—Noel, Lightwine; Blue Valley Community Action—Supervisor Wade Sluka, Graham; Trailblazer RC&D—Supervisor Larry Cerny, Graham; and Southeast Nebraska Development District—Graham, Sluka.
Halbur and fellow department heads Jim Dunker, emergency management; Jennifer Slezak, planning and zoning; Brenda Motis, Fillmore County Senior Services; and Todd Boller, noxious weeds; were re-appointed for another year.
The first regular session for 2019 took place on January 8.