E-M 15-4; Downs Giltner, Hampton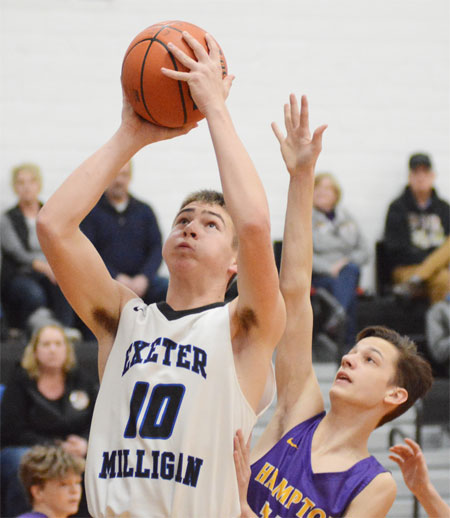 Exeter-Milligan improved to 15-4 on the season (No. 8 in wildcard points in Class D-2) with a pair of victories last week.
The Timberwolves rallied past Giltner 52-43 last Tuesday. The Hornets led the contest 23-20 at halftime. E-M owned the third period, 17-8, and fourth quarter, 15-12, en route to the nine-point conference win. The Timberwolves shot 44 percent from the field (19-for-43) and outrebounded their guests, 26-18.
Jackson Beethe led the E-M attack with 17 points. Spencer Pribyl scored 14 points and Max Zeleny netted 10 points and had nine rebounds and four assists. Colton Bossaller added eight points and Mitchell Manning had three.
E-M rolled past short-handed Hampton 59-20, as 11 Timberwolves hit the scorer's book. The Timberwolves led 27-3 after one period of play and 44-8 at intermission.
Beethe poured in 19 for the winners. Ryan Sharp and Pribyl both scored eight points. Kole Svec put in five points and both Peyton Pribyl and Zeleny had four points. Elijah Johnson scored three points. Clint Oldehoeft, Johnny Babula, Casey Underwood and Manning all scored two points.
E-M plays at McCool Junction and hosts Cross County this week before playing at Dorchester next week.