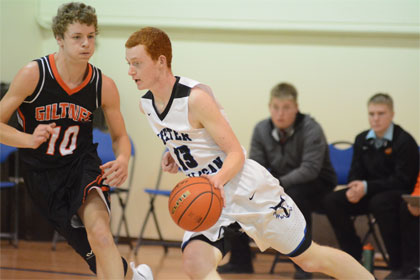 For two-and-a-half quarters Exeter-Milligan looked like Crossroads Conference Tournament champions, but foul trouble and a relentless Giltner defense took its toll, as the Hornets rallied in the second half to post a 56-44 win in York.
The 15-4 Timberwolves came out of the gate firing on all cylinders Friday night with a 6-0 run to start the final and a 15-8 first-half advantage. E-M also led the contest 27-19 at the break. The only real negative being two fouls whistled early on leading scorer Eric Olsen.
The 13-4 Hornets would take their first lead in the contest with 2:38 left in the third period at 35-34. Shortly afterward, Olsen would be whistled for his fourth foul. Giltner was able to push its lead to five early in the fourth quarter, 44-39, before E-M would battle back to make it a one-point game. From there, the Hornets dominated the offensive and defensive glass and Olsen would foul out at 49-43. E-M was only able to muster five fourth-quarter points in the loss.
Seth Maxson scored 12 points for the Timberwolves and Patrick Murphy added 10. Olsen netted eight points and Max Zeleny had seven.
Top-seeded E-M began CRC Tournament play with a 55-47 win over Cross County. Olsen scored 20 points in the victory and both Spencer Pribyl and Zeleny had 11. Murphy tossed in eight points and Maxson had five. The Timberwolves were up 28-20 at halftime.
E-M got past East Butler 62-54 in its CRC semi-final contest. The Timberwolves used a 23-point second quarter to lead the Tigers 39-28 at the break and held on for the victory in a very physical contest on Thursday.
Olsen scored 18 points for the winners and Murphy added 17. Zeleny muscled in 11 points and Maxson had nine. Pribyl scored five points and Trevor Zelenka added a bucket.
At 15-4, the Timberwolves are No. 3 in wildcard points in Class D-2.