E-M Competes At Turkey Creek Relays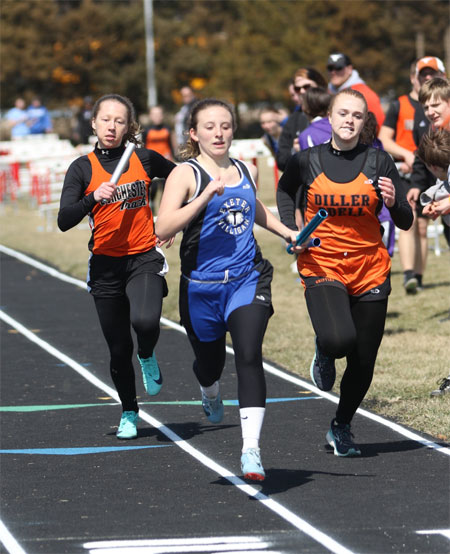 Exeter-Milligan competed in the 2019 Turkey Creek Relays on March 26 in Friend. Both the Timberwolf boys and girls landed in fourth place in the team standings.
The E-M girls 1,600-meter sprint medley squad of Katherine White, Maddie Luzum, Jaiden Papik and Kate Jansky were first in a time of 5:05.30 last week. The 2,700-meter medley team of White, Papik, Jansky and Cameran Jansky was also first in Friend.
Additional scoring for the Timberwolf girls were turned in by 400-meter relay team of Luzum, Katelyn Babula, Emma Olsen and Kayla Geiger, fourth, 60.8; 800-meter relay team of White, Luzum, Cameran Jansky and Geiger, second, 2:05.20; 1,600-meter squad of White, Papik, Babula and C. Jansky, fourth, 4:43.60; 3,200-meter team of C. Jansky, K, Jansky, Babula and Geiger, second, 11:50.20; 3,200-meter distance medley team of K. Jansky, Luzum, Natalie Staskal and Papik, second; and Macy Due and Georgia Meyer, fifth, discus.
The Timberwolf boys were unable to capture an individual relay event in Friend. The E-M boys 800-meter relay squad of Blake Steuben, Spencer Pribyl, Jackson Beethe and Casey Jindra missed first by a second. The 3,200-meter team of Luis Jaegermann, Clint Oldehoeft, Steuben and Pribyl also took runner-up honors in 9:36.60.
Other point earners for the E-M boys were: 1,600-meter relay squad of Oldehoeft, Beethe, Pribyl and Jindra, third, 4:02.60; 3,200-meter medley of Ben Bartu, Peytan Brandt, Braden Capek and Oldehoeft, seventh; 2,700-meter medley of Brandt, Beethe, Jindra and Oldehoeft, fourth; shuttle hurdle team of Brandt, Capek, Jaegermann and Steuben, third; Pribyl and Bartu, sixth, discus; and Beethe, sixth, high jump.
The Timberwolves are in action this Wednesday, April 3, in Friend again in the Meridian Mustang Invite. Field events start at 10 a.m. Running begins at 12:30.