E-M Downs McCool; Cross County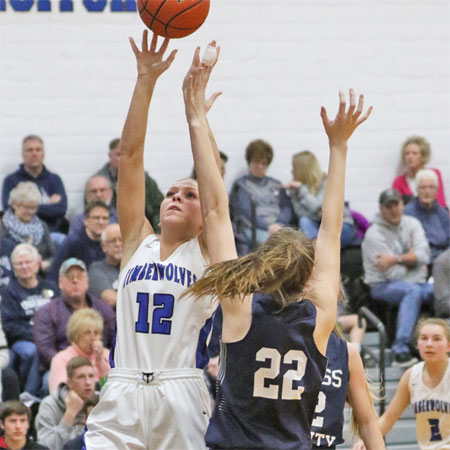 Exeter-Milligan improved to 18-4 (No. 6 in wildcard points in Class D-2) with a pair of victories on the hardwood last week.
The Timberwolves got past McCool Junction 38-33 on the road last Tuesday. The upset-minded Mustangs were up 19-17 at halftime. E-M grabbed the lead at 27-26 after three periods of play and held on for the win.
Kate Jansky put in 16 points and made five steals for E-M. Jaiden Papik scored 10 points. Katherine White scored nine points and grabbed eight rebounds. Alexis Turrubiates added three points and three rebounds. Emma Olsen and Kayla Geiger both had two rebounds.
On Friday night, the Timberwolves avenged a loss in this years' CRC Basketball Tournament by getting past Class C-2 Cross County, 36-29. E-M led the contest 18-13 at intermission and 27-21 after three periods of play.
E-M shot 30 percent in the win (13-for-43) and held the Cougars at bay beyond the 3-point arc, while sinking four treys themselves.
Jansky scored a dozen for the winners and White added seven points and six rebounds. Turrubiates scored six and snagged five boards. Olsen netted five and had seven rebounds. Papik and Geiger both made a 3-pointer in the win.
E-M opened D2-2 Sub-district play on Wednesday against Dorchester. With a win over the Longhorns, the Timberwolves should play top-seeded Bruning-Davenport/Shickley at 7 p.m., this Thursday, February 14, in the sub-district final in Wilber. Girl District play is slated for February 22.