E-M Loses Heartbreaker, 46-44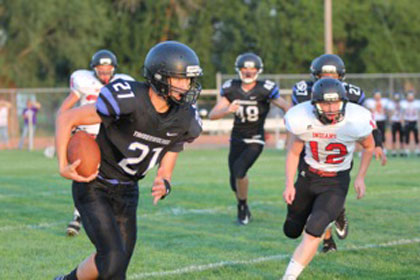 Exeter-Milligan was up 32-20 over Pawnee City Friday night in Milligan. The Indians outscored the Timberwolves 12-6 in the third quarter of play.
Pawnee City would score a TD and two-point conversion early in the final stanza before E-M's Joey Bartu hit paydirt from 11 yards with 2:51 left in the fourth quarter. A failed PAT had the score 44-40 Timberwolves. Bartu scored three times for the home team and carried the ball 30 times for 162 yards.
The Indians would come back to spoil E-M's chance for a victory only 40 seconds later, when Pawnee City's quarterback hooked up with a receiver for a 36-yard touchdown. The Timberwolves could not score on their final possession. E-M held a huge advantage in first downs, 26-13, and in total yards, 425-313, in the contest.
Spencer Pribyl went 12-for-24 passing for 210 yards. Pribyl also rushed for 34 yards. Max Zeleny hauled in 69 yards of passes and rushed for 19 more. Seth Maxson logged 62 receiving yards and Jackson Beethe had 48. Bartu caught one pass for 31 yards.
E-M (0-3) plays at 2-1 Meridian this Friday night.