E-M Makes D2-7 Dist. Final Game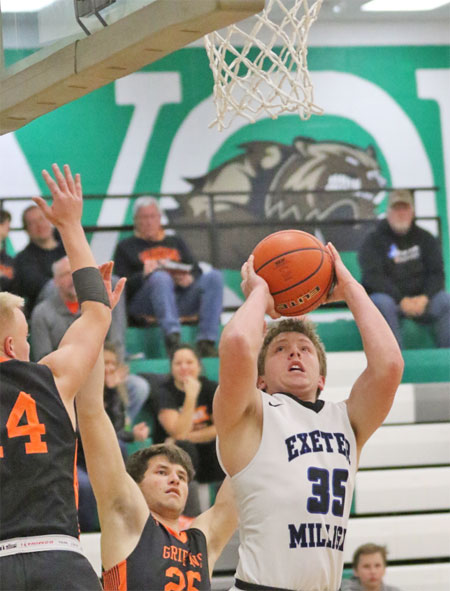 Exeter-Milligan advanced to its sub-state/district final by winning the D2-2 Sub-district in Wilber. The 20-4 Timberwolves tangled with 15-9 Giltner on Monday night in Geneva for the opportunity to play in the 2019 NSAA Class D-2 State Tournament next week. E-M fell to the Hornets, 34-32, in the second round of this year's Crossroads Conference Basketball Tournament. The Timberwolves would avenge this loss five days later by downing Giltner, 52-43, in Exeter on January 29. E-M is the No. 7 seed in districts/sub-state.
The Timberwolves cruised through their bracket at the Wilber-Clatonia High School. E-M rolled past Friend 63-26 on Tuesday, February 19. E-M was ahead 35-17 at halftime and continued to build its lead throughout the second half.
The Timberwolves shot a sizzling 68 percent (28-for-41) from the field. The Bulldogs shot just 24 percent but did make two more free throws than the winners. E-M forced 18 turnovers and owned the glass 18-7.
Jackson Beethe led all scorers with 17 points. Max Zeleny added 13 points and dished out seven assists for the victors. Colton Bossaller netted nine points and Spencer Pribyl put in eight. Trever Zelenka scored seven points and Theron Odvody had six. Johnny Babula rounded out the scoring with three.
The Timberwolf defense limited Diller-Odell to just a bucket in the second period en route to a 19-11 advantage at the break in the sub-district final on Thursday, February 19. The E-M offense picked up in the third period scoring 23 points. The Timberwolves advanced to Monday's game with the 52-38 win over the Griffins in Wilber.
E-M was again hot from the floor, shooting 52 percent (18-for-34). The Timberwolves canned a pair of 3-pointers and went 14-for-23 from the charity stripe. E-M outrebounded its opponent, 23-18, and forced 18 points.
Beethe scored 19 points for the victors. Zeleny added 11 points and five rebounds and assists. Pribyl scored seven points and snagged 11 rebounds. Babula also netted seven points. Bossaller scored five points and Mitchell Manning chipped in two points. Zelenka capped the scoring with a free throw.