E-M Takes Part In Quad At McCool Jct.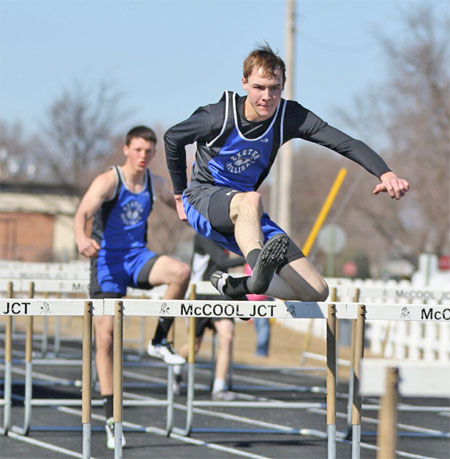 Exeter-Milligan participated in a quadrangular in McCool Junction on March 20. Joining the Timberwolves last week were the host Mustangs, Hampton and Osceola.
Having a big day for the E-M girls was Katherine White who won four events. The Timberwolf senior took first in the 100-meter dash (13.04 seconds); 200-meter dash (29.01); 100-meter hurdles (16.84) and 300-meter hurdles (52.21).
Jaiden Papik captured first in the 800-meter run (2 minutes, 39.14 seconds). The Timberwolf girls 3,200-meter relay (11:33.56) and 1,600-meter relay (4:50.97) teams were both champions. The 400-meter relay squad placed fifth.
Additional girl results from March 20 include: Macy Due, sixth shot put; Briana Capek, second discus; Georgia Meyer, sixth discus; Papik, third long jump; Maddie Luzum, second pole vault; Kate Jansky, third 800-meter run; and Cameran Jansky, fourth 800-meter run.
For the E-M boys, Casey Jindra won three events in McCool Junction. Jindra was the champion in the 100-meter dash (11.75 seconds) and the 200-meter dash (25.13). He was first in the long jump (17-feet, 6.25 inches) and second in the 400-meter dash (56.34).
Peyton Brandt was first in the 110-meter hurdles in 17.32 seconds. He was also third in the 200 (26.56).
Additional results for the Timberwolf boys were turned in by: Jackson Beethe, fourth high jump; Luis Jaegermann, third 3,200-meter run; Spencer Pribyl, fourth discus; Blake Steuben, sixth long jump; Pribyl, fifth 400-meter dash; Beethe, third 110-meter hurdles; Pribyl, second 100-meter dash; Beethe, sixth 100-meter dash; Beethe, second 300-meter hurdles; Jaegermann, sixth 1,600-meter run; 1,600-meter relay, fifth; Pribyl, third 800-meter run; and Steuben, sixth 800-meter run.