EMF Moves On To Quarterfinals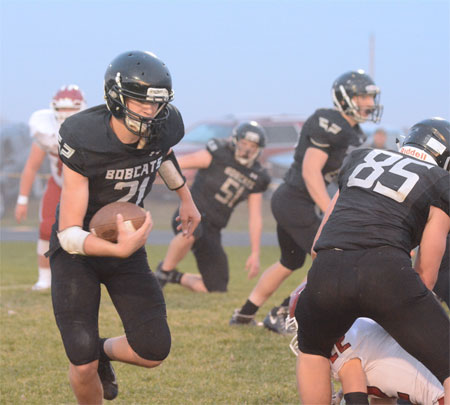 Exeter-Milligan/Friend used a solid rush defense and 280 yards on the ground from seniors Edwen Baptista and Mitchell Manning to get past Fullerton 40-28 and advance to the Class D-1 State Football Quarterfinals. The 10-0 Bobcats played GACC (9-1) on Tuesday in Milligan. With a win over the Bluejays, EMF would play at Creighton, more than likely, on Monday, November 12, for a berth into the state finals.
The Bobcats led Fullerton 32-20 at halftime on Wednesday, October 31, in Friend and both teams added a touchdown in an uneventful second half.
The Warriors and Bobcats exchanged scores to begin their second-round contest. EMF's Manning broke through a pair of initial tackles to score first for the Bobcats on a 57-yard TD jaunt. EMF quarterback Spencer Pribyl powered in from nine yards out and converted the PAT run to have the Bobcats up 16-14 after one period.
Baptista began the second quarter scoring with a 38-yard TD scamper. The Pribyl to Max Zeleny PAT pass was good and EMF was up for good at 24-14. Pribyl would finish with eight yards rushing and 48 yards passing. Zeleny caught two passes for 47 yards. Baptista rushed 38 times for 191 yards.
After a Fullerton score late in the second period, the Bobcats would mount an impressive two-minute drive that was capped off by a Colton Bossaller TD reception in heavy traffic in the endzone with three seconds left before halftime. Baptista converted the PAT run.
Manning plunged in from five yards out in the third quarter and Pribyl hooked up with Bossaller for the PAT. Manning finished with 89 yards on a dozen carries.
EMF had 336 total yards compared to 289 for Fullerton. The Warriors passed for 196 yards. Both teams had two turnovers.
Manning paced the defense with 8.5 tackles and Zeleny had eight. Bossaller had two interceptions in the win.