Exeter-Milligan Qualifies For State BB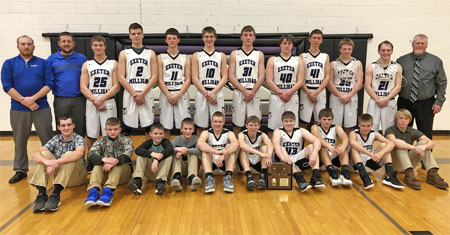 By GREG SCELLIN
Signal Editor
Exeter-Milligan maintained a two-possession lead against Giltner late in the first half and pushed its advantage to a dozen quickly in the third period, 28-16, en route to a 41-30 victory over Giltner and a berth into the 2019 NSAA Class D-2 Boys State Basketball Tournament. The 21-4 Timberwolves will head into Lincoln the winners of 10 straight games.
The D2-7 District final was tied at 9-9 on Monday, February 25, in Geneva. Timberwolf Jackson Beethe drained a 3-pointer from the corner to send E-M ahead 21-16 at the break. The E-M sophomore would pace the Timberwolves in scoring with 15 on the night.
The Timberwolves came out on fire to begin the third stanza and scored the period's first seven points to open up a 28-16 advantage. E-M held the Hornets to just three third-quarter points. The Timberwolves enjoyed their biggest lead at 32-19 two minutes into the fourth quarter. Solid free-throw shooting (5-for-9) and consistent defense never allowed a Giltner run down the stretch.
"These guys earned this, this year, they have played their tales off," E-M coach Dean Filipi said. "We played a good schedule…and these guys have hung together. They like eachother…they hang out together away from school. They earned it this year. They played well all year long."
Two other Timberwolves were in double figures—Colton Bossaller netted 11 points and Max Zeleny had 10 points, seven rebounds and seven assists. Spencer Pribyl added four points and Johnny Babula had a bucket. E-M shot 45 percent (16-for-35) from the floor in the win and owned the glass, 21-20. The Timberwolves forced 11 turnovers and canned four 3-pointers (4-for-10). The Hornets were just 4-for-24 from 3-point land.
The poor Giltner shooting can be attributed to solid E-M defensive pressure.
"They really got after it tonight, time after time," Filipi said. "Hopefully, we keep playing good D down there. Can't say enough about our hustle tonight."
E-M will be making its fourth appearance in Lincoln. The last time the Timberwolves were there, they won the Class D-2 State Championship in 2015—a double overtime thriller over Bancroft-Rosalie. E-M failed to win a game in Lincoln in 2010 and 2014. The Timberwolves went 20-6 last season but were upset by Mead in the sub-district final and did not make Lincoln on a wildcard.
Beethe leads the Timberwolves in scoring this year averaging 15 points a contest. The 6-foot-4-inch Pribyl nets 9.9 points and 8 rebounds a contest. Zeleny is scoring 9.7 points a game, along with 6.2 rebounds and 5.4 assists a contest. Bossaller is scoring 7.7 points and outing.
"We knew we had a good nucleus coming back," Filipi said. "And, I'm impressed how they have come together. I know these guys will give it their all no matter who we draw up there."
Coming in as the No. 7 seed, E-M draws undefeated Riverside in the opening round this Thursday at 7 p.m., at Lincoln East. The 22-0 Chargers have made State the past four seasons, and the Cedar Rapids/Spalding co-op were D-2 State Runners-up a year ago, falling to Falls City Sacred Heart in the finals.
Riverside has scored more than 80 points five times and more than 70 points 12 times. The Chargers can do it from the inside or the outside. 5-11 guard Tredyn Prososki is averaging 17.9 points per contest, while 6-7 post Joseph Bloom is muscling in 16.8 points per game. Michael Bernt, a 6-3 guard, is scoring 12.2 points a contest. The Goldenrod Conference champions have beaten four teams in this year's State tournament—Class D-1 Fullerton and Humphrey/LHF and Class D-2 Humphrey St. Francis and Loomis. Osmond and Loomis are on the other side of the bracket. The State semi-final game would tip-off at 8:45 p.m., at Devaney.