Fairmont close to losing its grocery store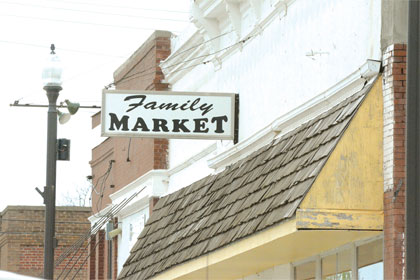 By GREG SCELLIN
Signal Editor
The month of June will be a critical one for Village of Fairmont residents if it is to keep the busiest business open on its newly-upgraded main street.
Family Market owner Tammy Thompson has stated in several published articles that she needs to find a new owner for the business by the end of June or she plans to begin liquidation. Thompson owns grocery stores in Fairmont and Kenesaw. Her husband Rob, who has been the superintendent in the Kenesaw School District, has accepted the superintendent position at Creighton Public Schools and the family will be moving to Creighton this summer.
This news comes as no shock to the residents of Fairmont—in fact, a Save our Store (SOS) Committee has been working for months to come up with a way to keep a grocery store open in its town.
"The Save our Store (SOS) Committee is working collaboratively with Jim Crandall of UNL, a Cooperative Business Development Specialist, who has extensive experience in aiding the development of small businesses in rural Nebraska," said Shelia Lauby, a SOS Committee member. Other committee members include Derek Betka, Aaron and Jodi Fintel, Rhonda Veleba and Fairmont Village Clerk Linda Carroll. "Also part of the committee is Patt Lentfer of the Fillmore County Development Corporation, who is offering insight on other small businesses within the county. The committee is in constant brainstorming mode, and welcoming all opportunities to share the thoughts on the incredible potential available in Fairmont."
But now, the clock is really ticking on keeping the main-street business open.
"It is really in danger of closing," Lauby said. "The date set to close is July 1. The store has been open and closed more than once over the past 10 years, and we are in desperate need of a miracle to keep it open."
Over the years, the business has sold made-to-order deli sandwiches, housed a café, provided fountain drinks and endless cups of coffee, and even sells greeting cards, mechanical pencils and a wide variety of groceries, Lauby said. In other words, it's the place to be in Fairmont. Whether you need a gallon of milk and a loaf of bread, or are planning a family reunion, the Family Market has been ready and available to meet the needs of the customers.
Thompson has owned the Family Market for six years and the Kenesaw Market grocery store for 11 years. The cafe side of the Fairmont store closed in January of 2016. A grocery store has been in the location since World War II.
Carroll also noted the Village of Fairmont recently completed its $2 million main-street revitalization project, which included new paving, street lighting, water lines and sidewalks.
"I think it's amazing what a new main-street project could do," Carroll said. "I truly believe it will help make consumers choose to shop local…it's attractive. And, it will help attract young people to town. With young people, comes kids, and the school district does good. When Fillmore Central does good, and the school is busy, that's a very good thing. We also need kids in the grocery store."
Carroll also realizes the village is up against it to keep the main-street hub open.
"The clock is definitely ticking…we are working towards something," she said. "We need to keep shopping local."
Aislee Grant lives in Fairmont with her husband, Chris. They are involved in the family business, Grant Built Transportation. Being business owners themselves, the young couple knows keeping as many businesses going in a small town is extra important. The family is a frequent Family Market customer.
"It is very convenient to shop for our groceries in town," Grant said. "My husband and I decided a while ago that we would buy everything we could at the Family Market and only shop out of town for items the store didn't provide. As small business owners ourselves, we know that any business in a small town can't survive without consistent, steady sales. Because it is so convenient to be able to run downtown to get the one item we are missing when preparing a meal, we want to be sure to support the store in any way we can to keep this convenience."
The Grants are also aware of the timetable on the store's closing.
"Losing the grocery store would not only be an inconvenience, but it would also be disappointing to see another business on main street close," Grant said. "We plan to raise our family in Fairmont so we of course want to see the town grow and thrive. Having a store in town is less about having a place to buy my groceries and more about the sense of community and pride the Family Market brings to Fairmont."
Lauby and her committee, as well as many Fairmont residents, are doing their best to keep that pride alive in their Fillmore County village. Lauby is also a driving force in the Fairmont Community Club.
"Fairmont might not seem like a thriving community, but upon closer look, there are hidden opportunities within the Fairmont vicinity, just waiting for the right person to take advantage," Lauby said. "First, the impending Flint Hills expansion is on the horizon, and the workers of the plant need a place for lunch. Next, the wind turbine project that has been approved will start construction later this month, bringing more prospective customers to the village. Not to mention the staff of Fillmore Central Middle School, Fairview Manor, Farmers Coop, and many other local businesses and patrons, who are looking for daily nourishment for meals, or a place to stop and pick up their groceries before leaving town for the day. With no current café or restaurant in Fairmont, the locals are anxious to have their store purchased, and excited for any new possibilities that could be part of new ownership. Recent updates to the Village streets, combined with a $70,000 new park, and the annexation of Casey's are all proof that Fairmont is thriving, and excited for the future."
For more information on the committee's efforts, you can contact Lauby at shelia.lauby@fillmorecentral.org or Veleba at rhondav@yorkchamber.org.