FC, E-M Compete At Shelby/RC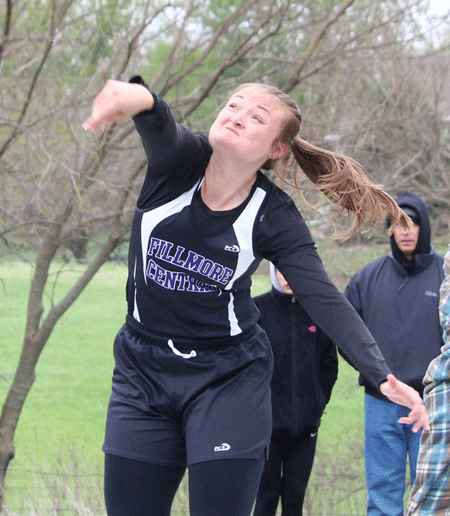 Exeter-Milligan was the girls' team champions at the Shelby-Rising City Track Invite on Tuesday, April 23. The Timberwolves scored 106 and were followed by S-RC, Cross County and Fillmore Central, 66. S-RC was the boys' team champions with 122 points. Runner-up was FC with 95 points. E-M was sixth (51) in the boys standings at the 10-team meet.
Timberwolf Katherine White won the 100-meter hurdles (15.79 seconds); 300-meter hurdles (49.36) and the long jump (16-feet, 4.5-seconds) on Tuesday. Teammate Jaiden Papik was tops in the 800-meters in 2:38.64. Cammie Harrison was first in the 1,600-meter run (6:07.19) in Shelby. The Timberwolf 3,200-meter relay squad of Papik, Harrison, K. Jansky and Cameran Jansky won their event in 10:36.39.
Panther Erin Schmidt took gold in the shot put with a heave of 37-1. FC senior Lauryn Monteforte placed first in the 3,200-meter run in 13:44.66. The Panther girls 1,600-meter relay team was tops in Shelby with a time of 4:32.15.
The Panther boys 400-meter relay squad took top honors on April 23 in 46.13 seconds. FC's Jake Stoner won the long jump with a leap of 20-7. Stoner was also third in the 100-meter dash and fourth in the 200-meter dash. Panther De Macial struck gold in the 800-meter run (2:12.53) and teammate Garrett Nichols won the 1,600-meter run (4:56.82). Panther Conner Nun cleared 11-0 to win the pole vault.
Timberwolf Spencer Pribyl won the discus in Shelby with a toss of 129-8. The E-M senior was also third in the 800-meter run. Teammate Casey Jindra finished third in the long jump and second in the 100-meter dash.
C. Jansky and K. Jansky finished second and third in the 800-meter run for E-M. Panther Jacki Schelkopf placed third in the 1,600-meter run (6:16.64) and teammate Teneal Barbur was second in the 3,200-meter run (13:49.26). Timberwolf Maddie Luzum placed third in the pole vault. The FC girls were runners-up in the 3,200-meter relay. Papik was third in the 400-meter dash.
Timberwolf Peytan Brandt was second in the 110-meter hurdles (16.45). The FC boys 3,200-meter relay team was second. The E-M 1,600-meter relay squad of Pribyl, Jackson Beethe, Mitchell Manning and Jindra took third (3:48.13). Panther Parker Uldrich was second in the pole vault. FC's Conner Asche was second in the shot put (43-1).