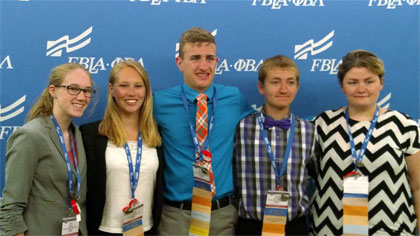 More than 9,600 of America's best and brightest high school students traveled to Southern California to establish their own Legacy of Leadership. Among them were five students from Fillmore Central High School, their adviser Cindy Talley, and parent chaperones Sarah Reinsch and Tabitha Babella. The Future Business Leaders of America (FBLA) National Leadership Conference was held June 29–July 2 in Anaheim, Calif. Participants from across the United States and abroad attended this exciting conference to enhance their business skills, expand their networks and participate in more than 70 business and business-related competitive events.
For many students, the competitive events are the capstone activity of their high school academic careers. This was true for three of the Fillmore Central attendees, as recent graduates Aaron Poppert competed in Impromptu Speaking, Sophia Frook competed in Job Interview and Stephanie Babella competed in Future Business Leader.
Babella was the first Fillmore Central student to receive the highest level in the Business Achievement Award competition. The Business Achievement Awards (BAA) is a high school leadership development program through which students enhance their leadership skills, expand their business knowledge, contribute to their local communities and earn recognition each step of the way by immersing themselves in their school, community and FBLA programs. There are four levels of the BAA, with each level increasingly challenging high school students to expand their leadership skills and showcase their talents.
Stephanie received the BAA America award at the Mountain-Plains Regional Meeting. Underclassmen attending included Ethan Reinsch who competed in Introduction to Information Technology and Elise Frook who competed in 3-D Animation.
The Fillmore Central Chapter received seven chapter recognitions including the Chapter Challenge consisting of the Super Sweeps, Non-stop November and Action Awareness projects along with being named a Diamond Chapter in honor of FBLA's 75th Anniversary this year.
Two other top chapter awards were also received. Fillmore Central joined 15 other Nebraska chapters in being awarded National Outstanding Chapter. In addition, the chapter also received the Gold Seal Chapter Award of Merit. The awards were part of a comprehensive national competitive events program sponsored by FBLA-PBL that recognizes and rewards excellence in a broad range of business and career-related areas.
In addition to competitions, students immersed themselves in interactive workshops, visited an information-packed exhibit hall and heard from motivational speakers on a broad range of business topics. The Nebraska delegation traveled two days early to the conference allowing time for the Fillmore Central group to visit Disneyland and California Adventure, Newport and Venice beaches, as well as a trip to downtown Hollywood.