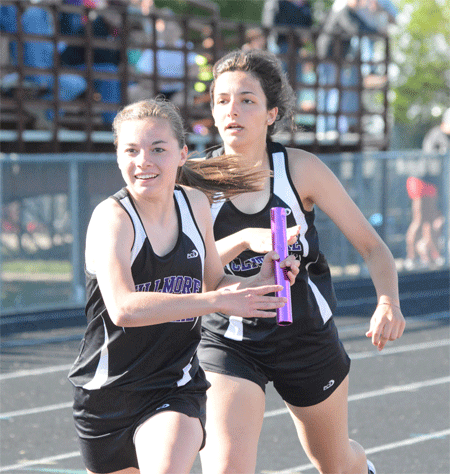 Three Fillmore Central girls have qualified for the 2016 NSAA State Track & Field Championships this Friday and Saturday in Omaha. Panther Jamey Broman won the long jump and 400-meter dash at the C-5 District Meet in Geneva. The FC sophomore would later be an added qualifier in the 200-meter dash.
Emileigh Kennel leapt 34-feet, 4.25 inches to win the triple jump. Grace Jacobson placed second in the 1,600-meter run to qualify to compete at Burke Stadium.
"I was happy with third," FC head girls coach Colby Smith said. "Several girls had personal bests and the effort was great all day long."
Broman won with a jump of 16-2.5 and will be in the second flight in the long jump. Kennel will be, too. Broman is the fastest qualifer in her heat in the 400-meter dash, which runs at 5:45 p.m. this Friday. The sophomore speedster drew lane six in Heat 2 for the 200-meter dash. Jacobson will run the 1,600-meters around 2 p.m. on Saturday.
Near misses for the FC girls included: Cori Knapp, third, pole vault; Sophia Frook, third, high jump; McKenzie Scheil, fourth (three inches from second), shot put; Jacobson, third, 3,200-meter run; and 400-meter relay squad of Broman, Scheil, Ines Ortea and Avis Koca, third, 52.9 seconds. Frook was sixth in the pole vault. Ortea took fifth in the high jump and the 400-meter dash.