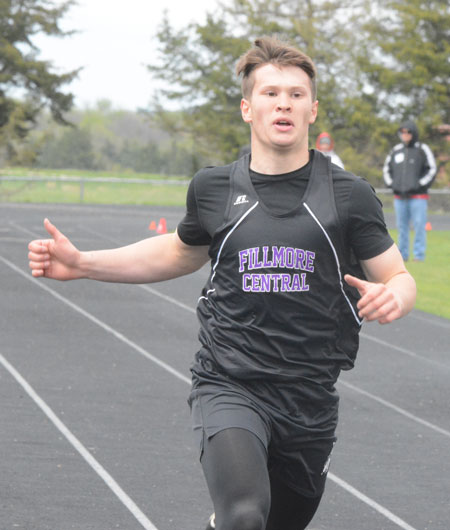 The Fillmore Central girls scored 11 points and the Panther boys notched 60 points at the C-7 District Meet at Sandy Creek on Thursday, May 9. FC qualified one girl athelete and three boys for this weekend's NSAA State Track & Field Championships.
Panther sophomore Jake Stoner made it to Omaha in two events. Stoner won the long jump at Districts with a leap of 20-feet, 2.75 inches and is in the hunt for a State medal. Stoner was also second in the 100-meter final in 11.45 seconds. De Maciel was second in the 800-meter run in Sandy Creek with a clocking of 2:06.04. Garrett Nichols will also be competing in Omaha after taking second in the 1,600-meter run in a photo-finish with Colby Karr of Blue Hill in 4:52.36.
Erin Schmidt will be carrying the banner for the FC girls after throwing a state-qualifying distance in her first toss at Districts. The Panther junior finished fifth in the talent-laden field with a throw of 39-5.5.
Additional C-7 District results include: Teneal Barbur, sixth, 3,200-meter run; 1,600-meter girls relay of Jordan Broman, Macy Scott, Avis Koca and Sydney Hiatt, fifth; girls 3,200-meter relay of Broman, Abby Nichols, Scott and Jacki Schelkopf, third; Stoner, 200-meter dash, fourth; boys 400-meter relay of Stoner, Parker Uldrich, Noah Monroe and Trenton Srajhans, fourth; boys 1,600-meter relay of Maciel, Hunter Verhage, Nichols and Srajhans, sixth.