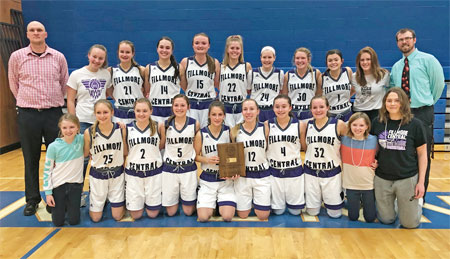 By GREG SCELLIN
Signal Editor
Top-seeded Fillmore Central blew through its bracket en route to the 2019 Southern Nebraska Conference (SNC) Girls Basketball Tournament crown. The 17-4 Panthers downed their tournament opponents by an average score of 60-37 and claimed the school's first-ever SNC championship on Saturday night with a 53-40 victory over Milford in Utica.
FC sharp-shooting guards Jackie Schelkopf and Macy Scott canned seven 3-pointers and Erin Schmidt and Halle Theis dominated in the paint for the Panthers in the final. After an even start, FC outscored Milford 17-8 in the second quarter and maintained a double-digit lead throughout the second half.
"This is just such a great feeling," FC head coach Shad Eberhardt said. "The first one in school history. I'm really proud of these girls. We are playing pretty well right now. We're definitely locked in on defense. Hopefully, we continue to work hard in practice and continue getting better."
Milford started out hot on February 2 outscoring the Panthers 9-2 early. A pair of back-to-back Schelkopf treys had FC trailing just 9-8 and eventually 12-11 after one period of play. The first of three Scott 3-pointers tied the game at 14. The game was tied again at 17 before another Schelkopf triple had the Panthers out for good at 22-20. Schelkopf scored 18 points to pace the FC offense. The Panthers led the SNC final 28-20 at intermission.
"They did a nice job of settling back in in the second quarter," Eberhardt said. "I thought about calling a time-out, but I wanted them to figure it out—and they sure did."
The Panthers outscored the Eagles 12-9 in a low-scoring and physical third quarter.
"We've struggled a little in the third quarter and knew they can be a hot-shooting team," Eberhardt said. "I'm just really proud of what we are doing defensively. Everyone is helping everyone out. Everyone is knowing where everyone is on the court. Things are working."
Theis hit a big 3-pointer in the third period to pump the Panther lead back out to 13 at 38-25. FC lead 40-29 after three quarters of play.
Panther post Schmidt dominated down low in the third and fourth quarters en route to a 12 point performance.
"When she catches it, she should think to score every time," Eberhardt said.
Guards Scott, who netted 13 in the big win, and Schelkopf spent a good portion of the fourth period dribbling out the clock. With fatigue surely factoring in, some more made free throws would've had the winning margin more like 20.
"Those two have really been coming on," Eberhardt said. "They've put in a lot of work and it's working…my two guards played the entire game. They had to be getting tired a little, I'm sure."
After going 7-for-9 at the charity stripe in the first three quarters, the Panthers were just 6-for-14 in the fourth period. Theis finished with eight points. Lexi Theis capped the scoring with a bucket, as only the starters scored for FC.
The Panthers reached the SNC final after avenging a loss the week before to Centennial by downing the 16-4, Class C-2 Broncos 60-42 on Thursday on their home court. FC was up 30-17 at intermission on January 30 and 44-32 after three periods of play.
Schelkopf and Abby Nichols both made three 3-pointers in the win. Schmidt led all scorers with 21 points. Nichols laced in 15 points and Schelkopf had 13. H. Theis scored six points and Scott had five. FC was 7-for-8 from the free-throw line.
The Panthers began tournament play last Tuesday with a 67-29 victory at home against Sutton. The Fillies hung with the top-seed for a quarter, trailing just 13-11 after one period. FC dominated the second period with a 25-3 scoring blitz that knocked out Sutton for good. Schelkopf scored all eight of her points in the stanza.
The Panthers responded with 21 more points in the third period before Eberhardt cleared his bench. Nine FC players scored in the opening-roud win.
Nichols canned two 3-pointers and poured in 17 points. Schmidt added 10 points and L. Theis scored nine. Scott added eight points with a pair of treys. H. Theis netted six points and Rhiannon Shaner had five. Lauryn Monteforte and Abbi Smith both added a basket in the win.
FC plays at Sandy Creek and hosts Sutton again before sub-district play begins next week in Fairbury.