Fillmore Central Downs Superior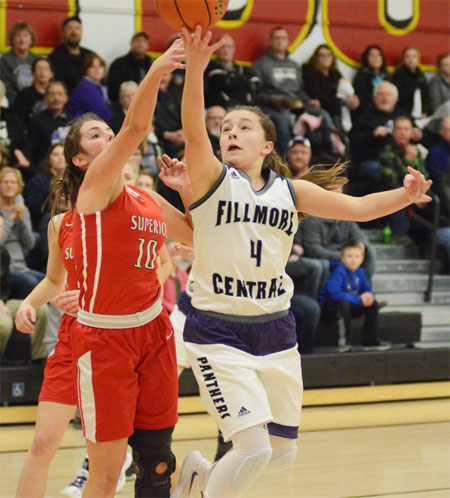 Fillmore Central scored the last seven points of the second quarter to tie the C2-3 Sub-district final on February 14 at 32-32. This wasn't going to be the last time for closing out a half strong, as the Panthers would outscore Superior 13-3 in the game's final four and one-half minutes to down the Wildcats 56-55 and jump to No. 3 in wildcard points. The 20-4 Panthers will now play 16-10 Freeman this Friday night at 6:30 p.m., at Crete High School for a berth into the 2019 NSAA Class C-2 State Basketball Tournament.
Behind All-Stater Kalynn Meyer, Superior started strong in Fairbury and led 19-16 after one period. The Panthers would outscore the Wildcats 16-13 in the second period for a 32-all halftime push. FC's Jackie Schelkopf scored 10 of her team-high 15 points in the first half. Panther Abby Nichols provided a big spark for FC with 10 first-half points.
The Panthers took their first lead of the contest at 6:25 in the third period at 36-32, but Superior would then go on a 8-0 run to take a 40-36 lead. A 3-point play by Panther Macy Scott had the lead trimmed to 40-39. Scott scored eight of 12 points in the second half.
The Wildcats would lead 44-41 after three periods. Meyer started the fourth period on fire and muscled in seven of her game-high 23 points in the stanza. Superior would lead 50-41 (6:37) and 52-43 (4:36).
Then the tide turned.
A Schelkopf three-point play saw the scoreboard read 52-48 with 2:54 left. Seconds later, a pair of Jones free-throws pulled the Panthers within two, 52-50. Next, FC post Halle Theis nailed a huge 3-pointer on an inbound play to tie the game at 53-all. Theis scored seven in the win. Meyer would respond down low for a bucket (1:27) before a Jones free-throw had the score at 55-54.
The Panther defense would stiffen allowing the Wildcat offense nothing. FC post Erin Schmidt converted in the paint for the game's final points. Schmidt scored 11 in the triumph. A pair of missed front-ends of one-and-one free-throws by the Panthers kept the fans on the edges of their seats. FC was 16-for-26 from the charity stripe. Lexi Theis capped the Panther scoring with a free throw.
"I thought the girls did a great job of not giving up and kept fighting even after getting down by seven-nine points a couple of times," FC head coach Shad Eberhardt said. "They never lost their composure and started to really execute what we practice late in the game."
Now, the Panthers have the chance to return to Lincoln for the third time in school history—with the last time being in 2013. All that's needed is a win over Freeman this Friday.
"We will be looking to clean up some mistakes from our last game and just look to play our best basketball—which, hopefully, will be good enough," Eberhardt said.
FC advanced to the sub-final with a 65-43 win over Sutton on Wednesday. Schelkopf led all scorers with 24 points (four 3-pointers) on February 13. Schmidt scored 15 points and Scott had 10 points (two 3-pointers). L. Theis added six points and H. Theis had five. Nichols scored three points and both Claire Kimbrough and Abbi Smith added a free throw. FC led 34-21 at the half.