Fillmore County CASA Holds Trafficking Event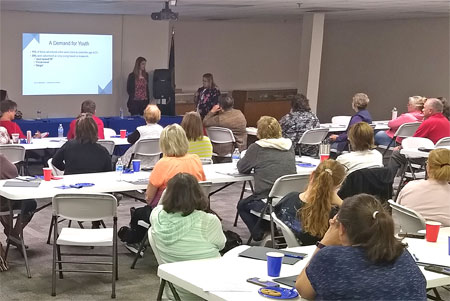 By Deborah Mohlman, Fillmore County CASA Volunteer Coordinator
A Human Trafficking event was held at Geneva Library on September 27. It was sponsored by Fillmore County CASA.
CASA of Fillmore County recently sponsored a Human Trafficking event in order to help educate parents, caregivers and professionals in the community about raising concerns regarding Human Trafficking throughout Nebraska. Speakers included Teshawna Sawyer, Human Trafficking Specialist from Grand Island Salvation Army SAFE-T program; and the second speaker was Sara Eliason, Education and Prevention Manager from the WCA Women's Center for Advancement in Omaha.
Both speakers were very knowledgeable and helped the public learn updated statistics regarding human trafficking in Nebraska. The turnout was very good and the interest was definitely shown by Fillmore County residents.
Fillmore County CASA's ultimate goal is to help protect our kids and to help them learn new skills in order for them to be more "Street Smart." Future workshops for youth are also being planned by Fillmore County CASA and will be announced accordingly.